I have a new must see in Tokyo. Actually, I'm not quite certain it is in Tokyo or another dimension entirely.
The day begins a little late with a familiar hunt for breakfast, which materialises into your typical breakfast set of thick toast, egg and salad at a cafe. Then we enter the underworld of an underground shopping passage until we reach our subway station.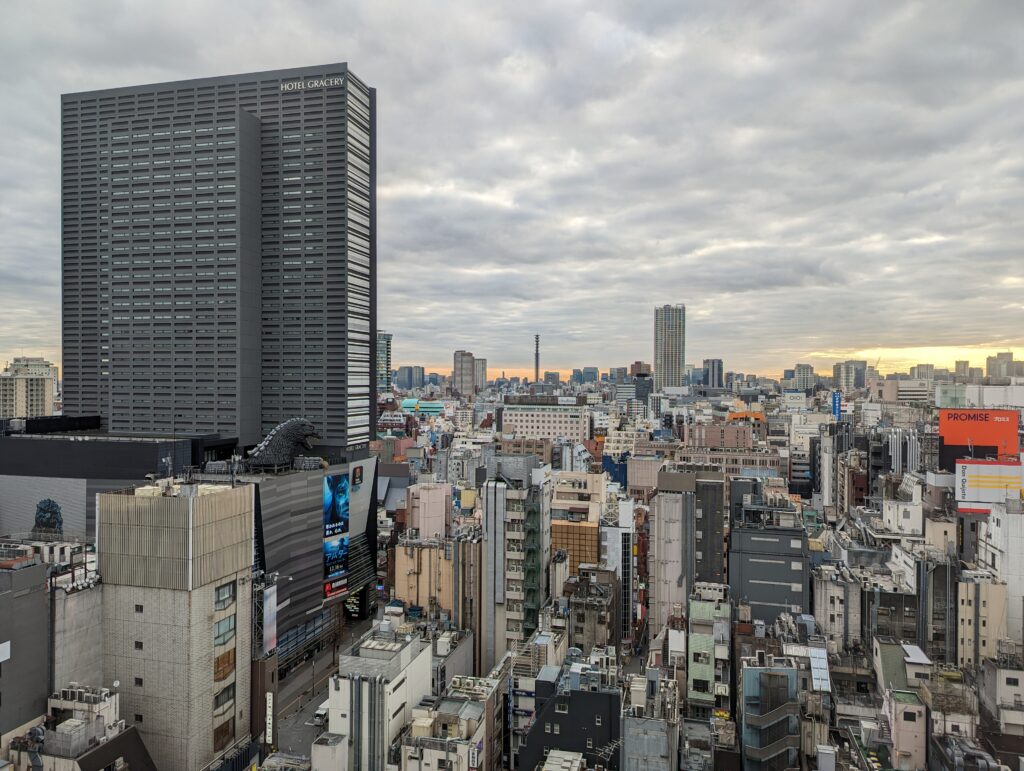 Our destination is teamLab Planets in Toyosu, one stop from the end of the Yurikamome transit system on the reclaimed land of the Tokyo Port district. We are beginning from the end.
You need to pre-purchase tickets online, then queue for entry. Once inside you are asked to remove your shoes, roll up your trousers and store your bags and extras in a locker.
Lucky for me I am wearing my convertible trousers and can stick them in shorts mode, because once you enter the darkened corridor it is into flowing water.
I don't want to give away the surprise of teamLab Planets by describing each room in detail. The photos cannot capture the wonder of it of the lights, projections and… …water. Ghostly fish swimming around your feet in the warm milky water. Infinite views of yourself and others as light streams around. You become part of the animations, of other dimensions and impossibilities. It is incredible!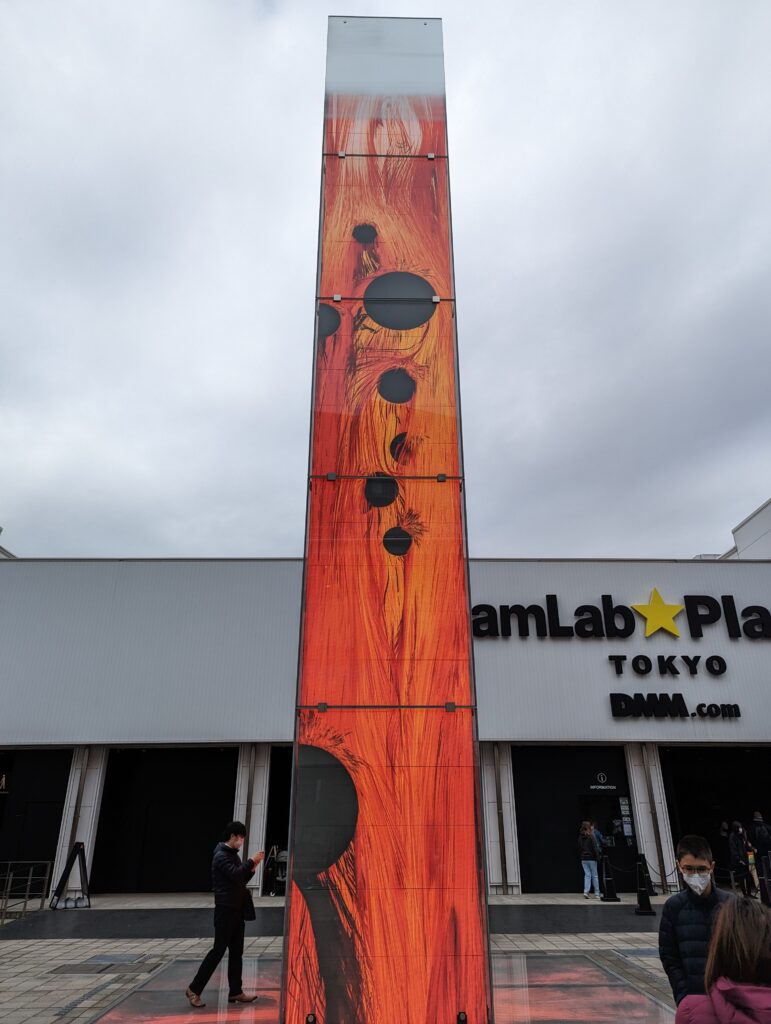 I am so glad we experienced the teamLab Planets. We've been to a few light and projection shows recently, but this really was in a different dimension to them and should be on everyone's list of things to do in Japan.
We return to the Lalaport shopping centre in Toyosu for shopping and lunch. As always it is a struggle to decide what to eat. Eventually we settle on soba and it is good.
Then we head back to the Yurikamome Line and ride the entire length of the automated guided transit system to Shimbashi. The top time here is to sit at the very front or back, but unfortunately too many other people know this.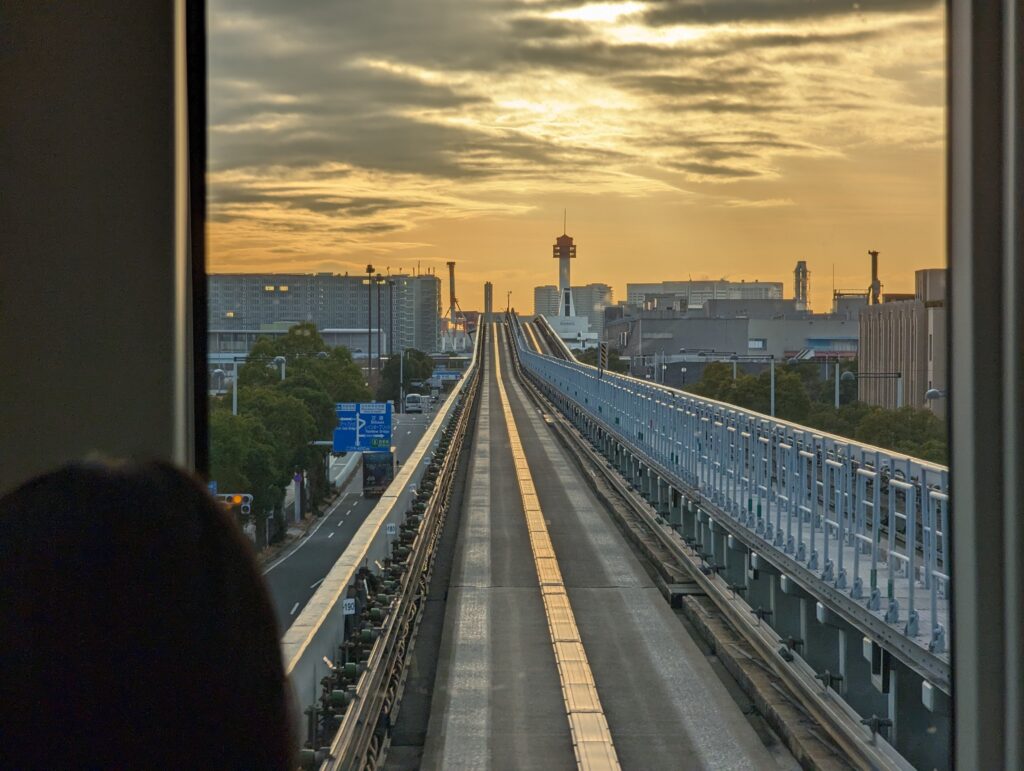 We are treated to some wonderful evening views as we ride along Tokyo Bay.
From Shimbashi we ride the Yamanote Line to another strange part of Tokyo, the Kawaii Fashion centre of Harajuku. Alex hasn't been here before.
We treat Alex to a chocolate banana crepe and find him more gatchapon. The range of featured objects is quite amazing, from turnstiles to tamagotchis, caravans to carrots. All little bits of plastic.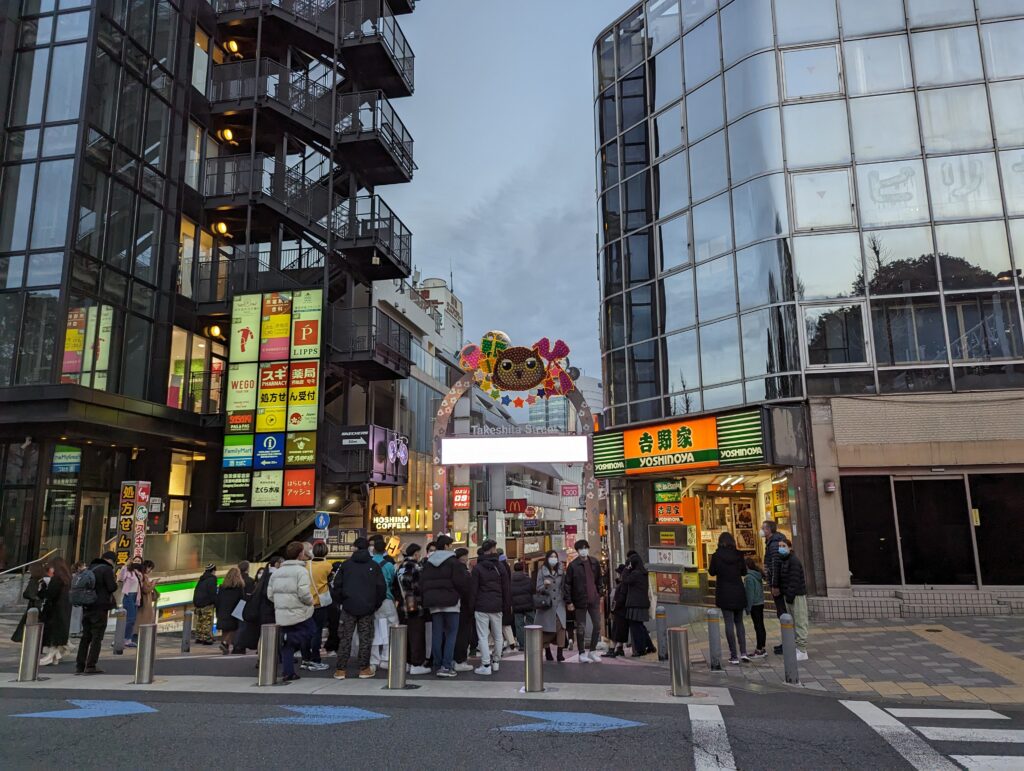 Then, of course, there is all the crazy and cutesy fashion.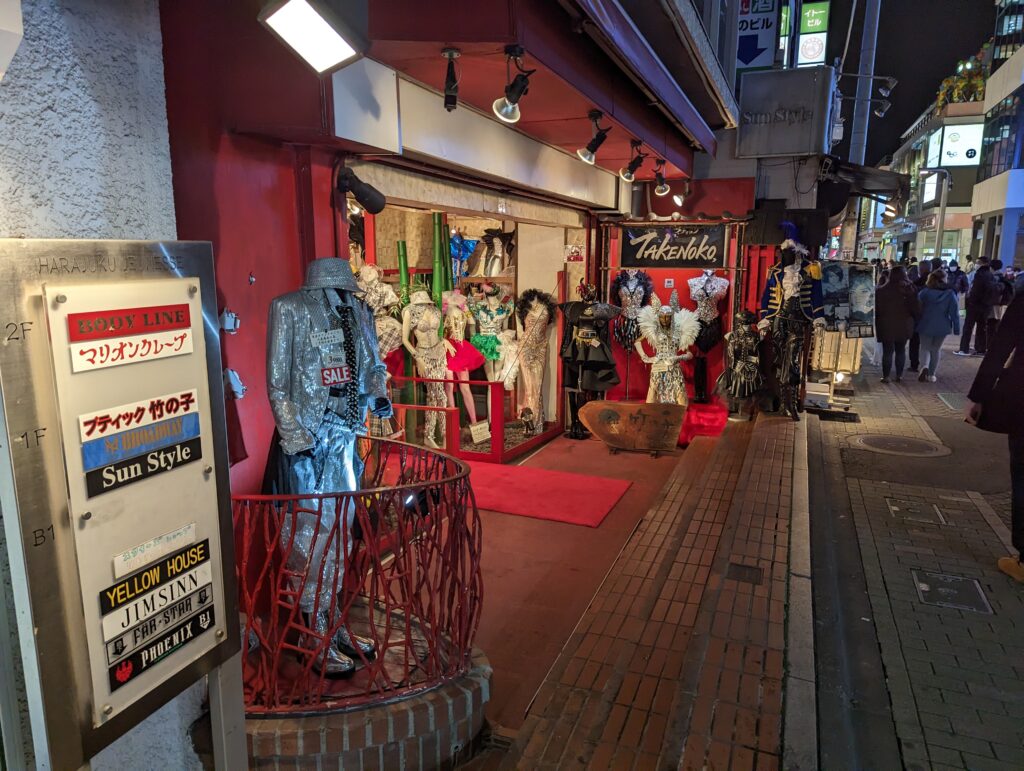 But it is late, we are tired and it's starting to drizzle. So we ride the Yamanote Line a couple of stations back to Shinjuku and take the Subnade route back to the hotel.
Along the way we stop for dinner at our favourite Tonkatsu Wako. Sinking my teeth into that tender breaded port I cannot believe it is so good compared to the local examples I've been eating since covid.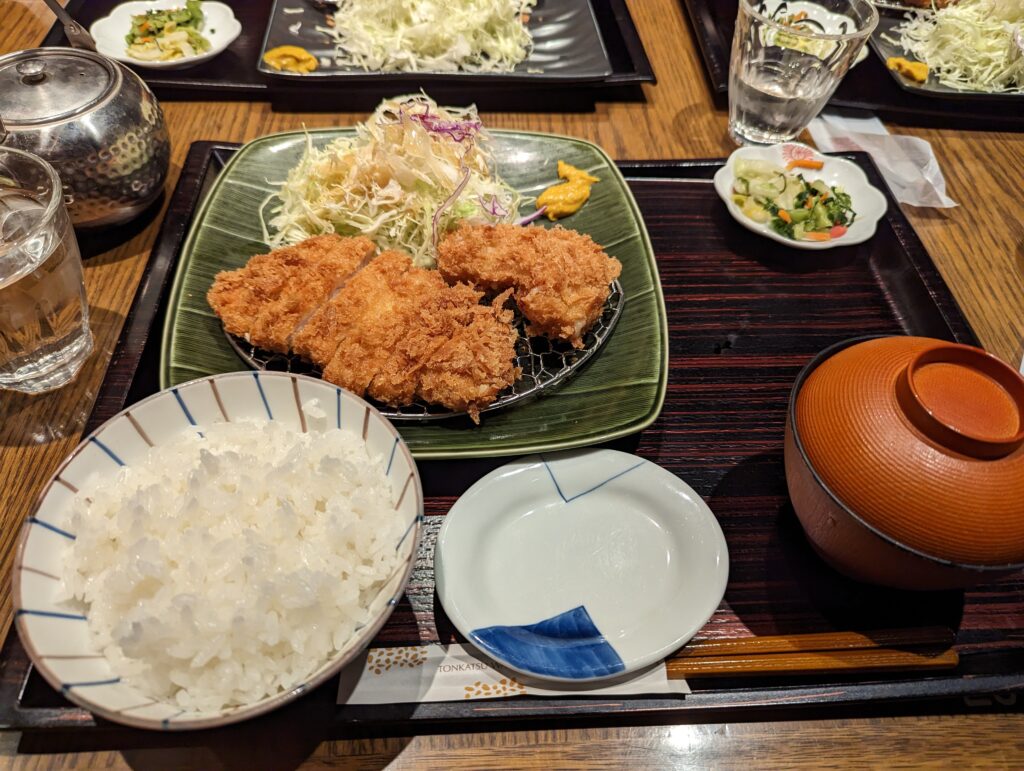 The underground path leads us into the hotel, but we continue up the escalator into the adjoining Pepe shopping centre. There all sorts of interesting stuff for sale in the little shops.
Alex find Haikyu!! stickers and more at Hands Be. The stationery is so beautiful. At the top is Can Do, a 100 Yen shop that sells Gokuri Grapefruit juice. Yes, I actually bought some from Westfield Miranda back in Australia the day before we left, but that's not the point, I have bought it here as part of my traditional quest.
I also brought back my first "fruit sandwich". Fresh fruit and cream between two super soft slices of white bread. Delicious, but not particularly healthy.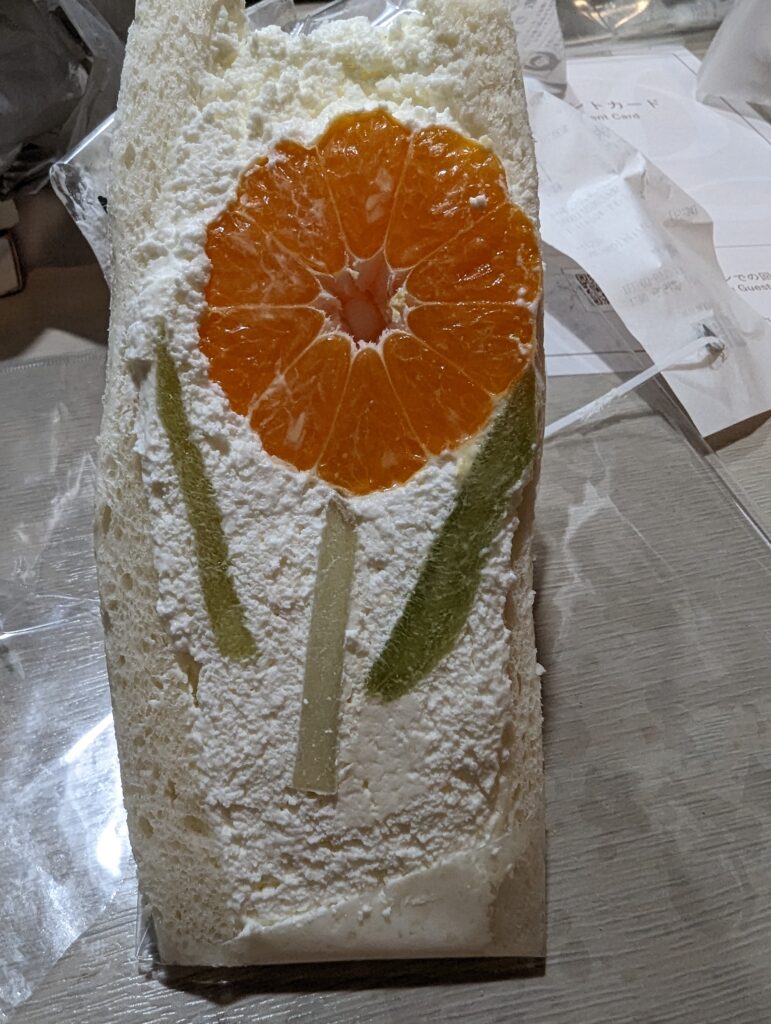 The final part of the night is the worst. Walking through the seedy streets of Kabukicho, past Pachinko and girl bars.
"Sir, want a massage?" call out the touts as I walk past, streets still busy with young people out having fun or hustling.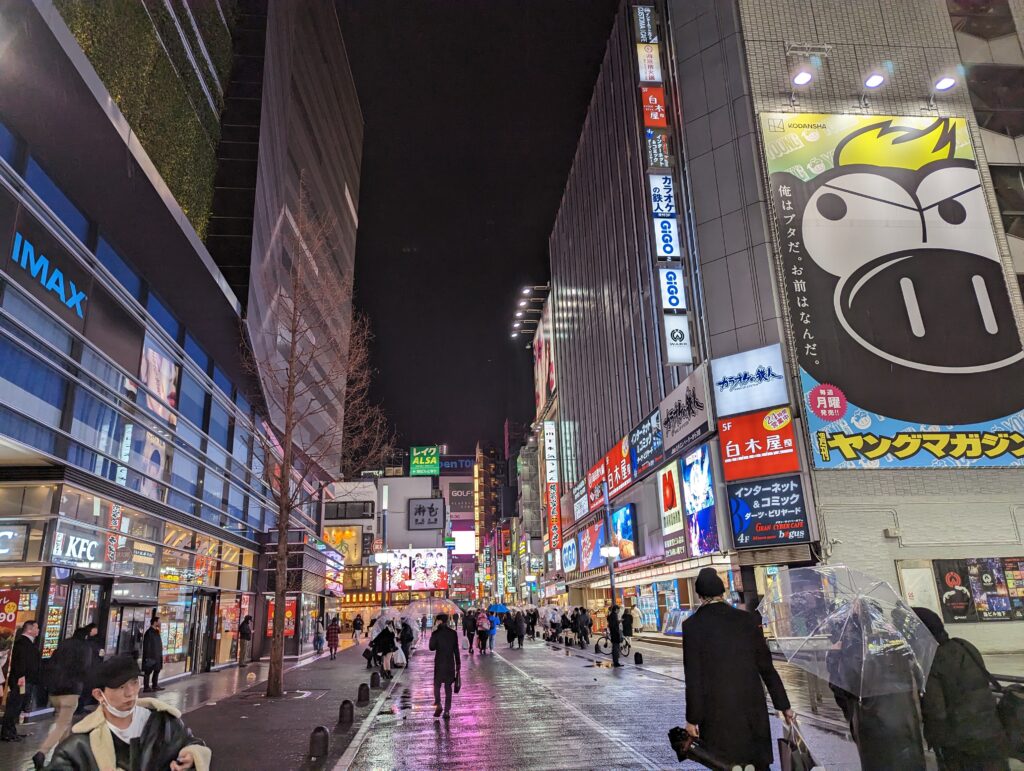 The hotel doesn't have a laundry, so I'm on my way to a laundromat. It's fortunately a faster one, taking fifty minutes to wash and dry, but it's not much fun waiting around for it.
Tokyo might be on a different planet, or perhaps it's many planets squished into one. That's what makes it one of the world's great cities.