Today was my train day. Twelve hours of riding the rails in Japan while the other two stayed in Tokyo and went to the top of the Skytree. Great day for it, lovely clear winter skies.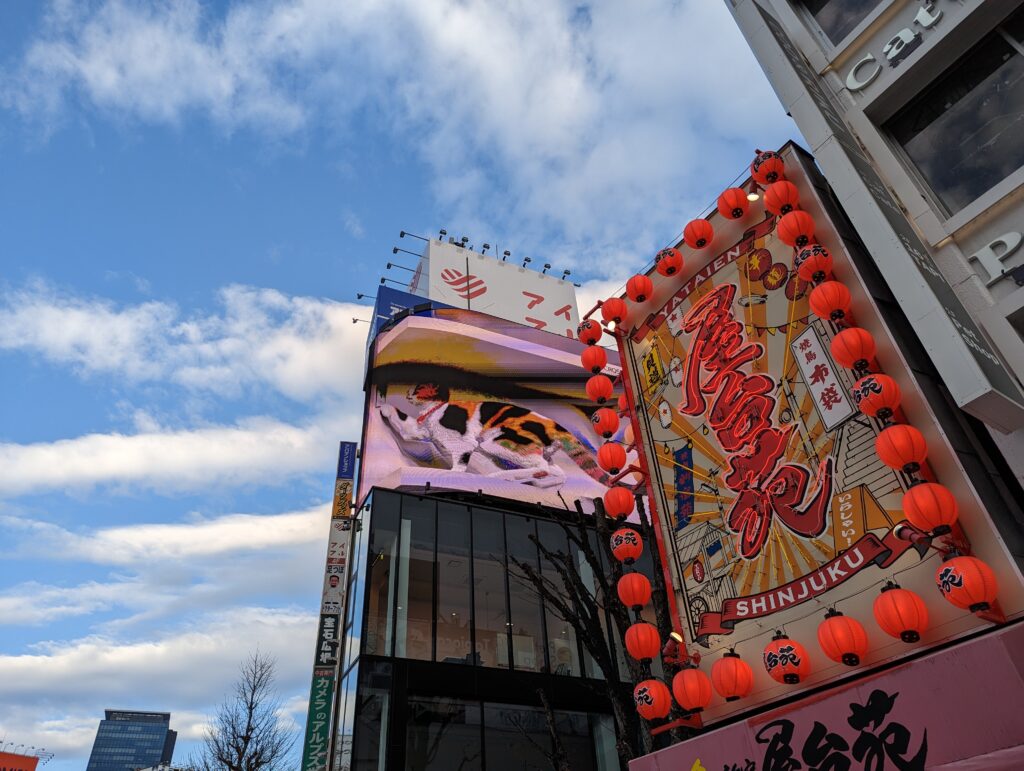 The Tadami Line has long had a reputation for its scenic beauty, but it is not until now that I had a chance to ride.It was only in October last year that the middle section between Aizu-Kawaguchi and Tadami reopened eleven years after being cut by the rains from a typhoon.
First, I had to get there. I make a mess of following Google Maps and end up on a train going on the right line and at the right time but in the wrong direction.
So I change to the Yamanote Line at Shibuya. But that is experiencing delays, so I get out at Shinagawa and change to a rapid service that gets me to Tokyo.
I try to reserve a window seat on the Shinkansen to Koriyama, but they were all gone. I grab a couple of pastries for breakfast and a small drink, then try my luck with the unreserved section of the Yamabiko Shinkansen.
The sleek and shiny green E5 Shinkansen is truly a work of art. I find my spot and we set off at high speed.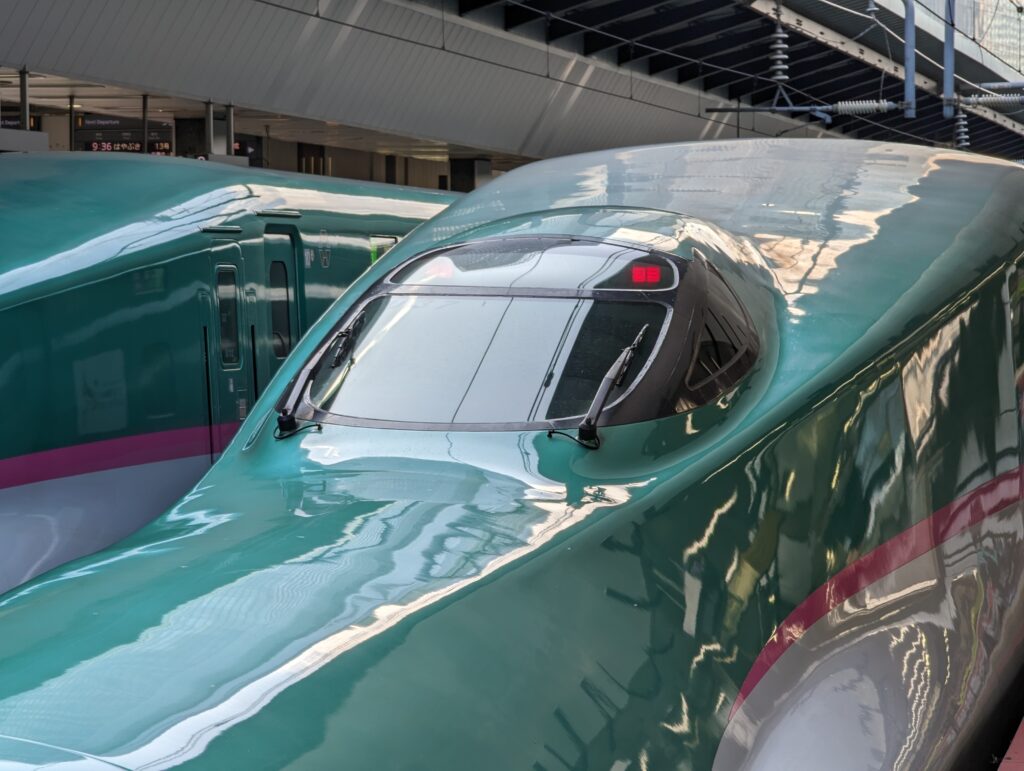 After all the walking and shopping of yesterday it is nice just to sit down and relax. At first the only signs of snow are at the top of the mountains, but as we head north the clouds build.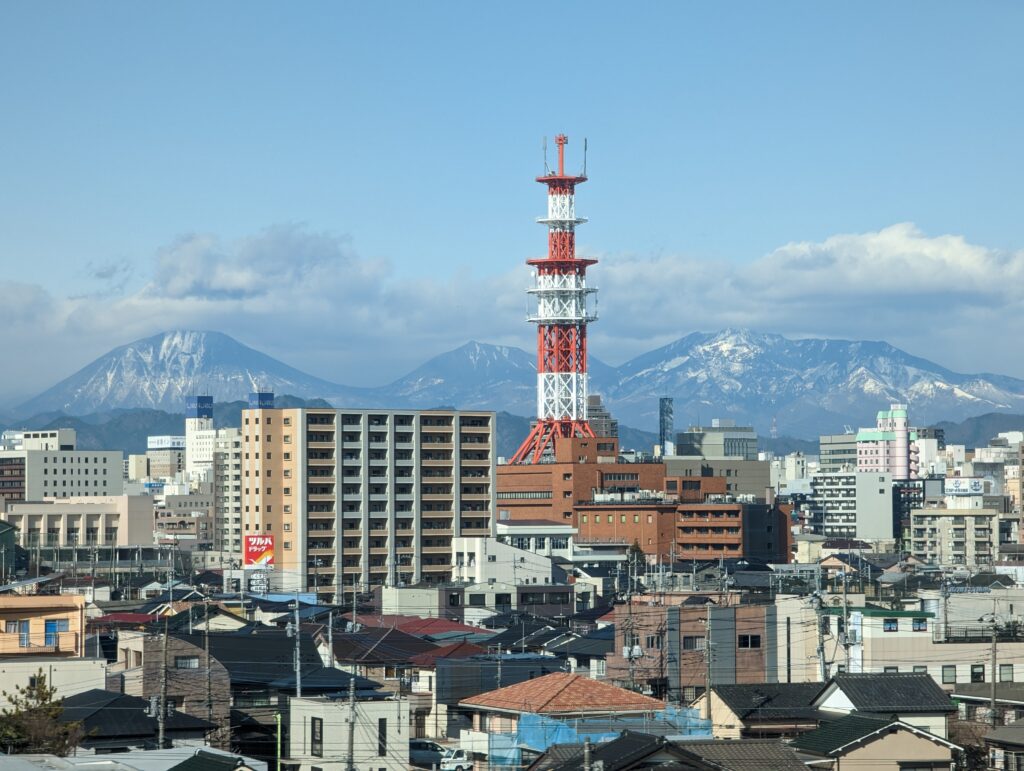 My time in Koriyama is brief, enough just to buy a packet of peach flavoured potato chips before boarding the Ban'Etsu West train to Aizu-Wakamatsu, a two car electric set that is already full of passengers. I just stand near the rear.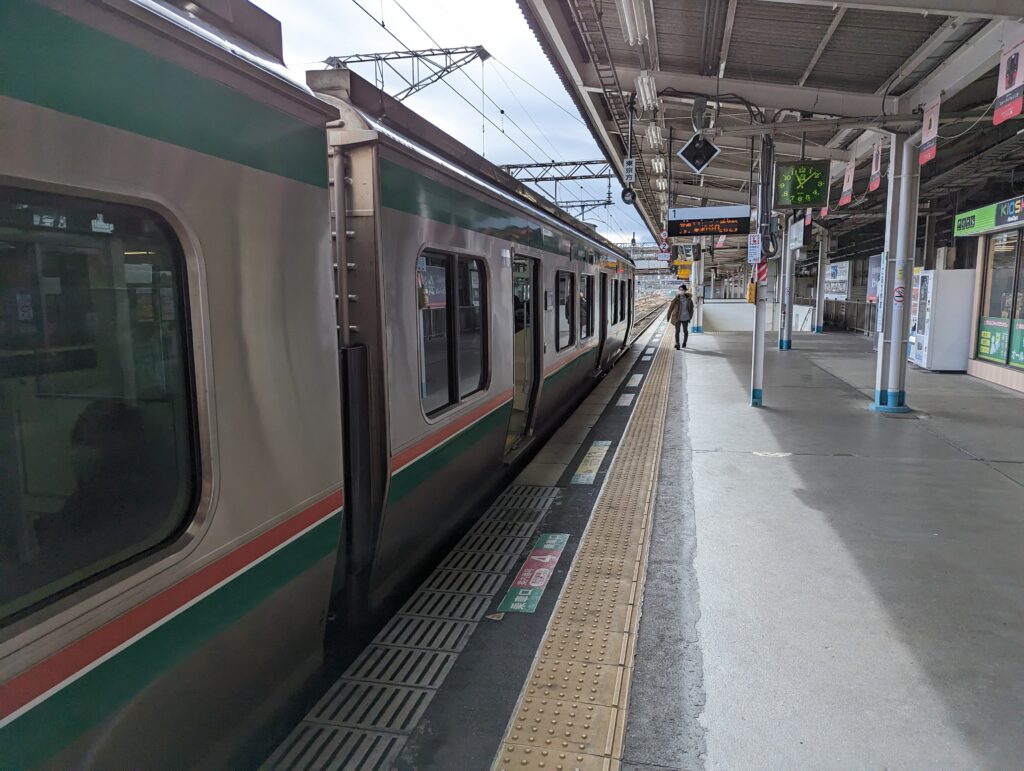 It's a single track line, though with passing loops at most stations. Dry reeds line the tracks, waving the train through. Houses, factories and farms straddle either side. Drab brown, tans and greys predominate, but the dry landscape has its own gritty charm if you know where to look.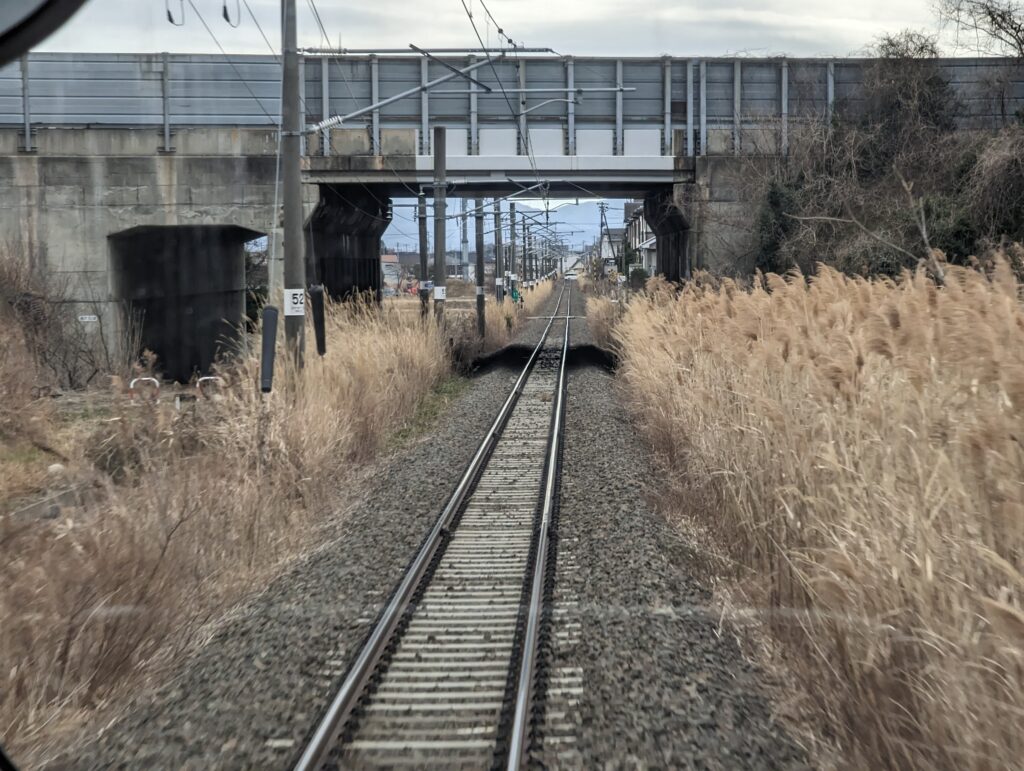 As we head inland we begin to see traces of snow, until the land eventually turns into an expanse of white, plains of rice paddies hidden beneath the ice powder. The nets and frames of wind breaks interrupt the flat perfection, protecting the tracks.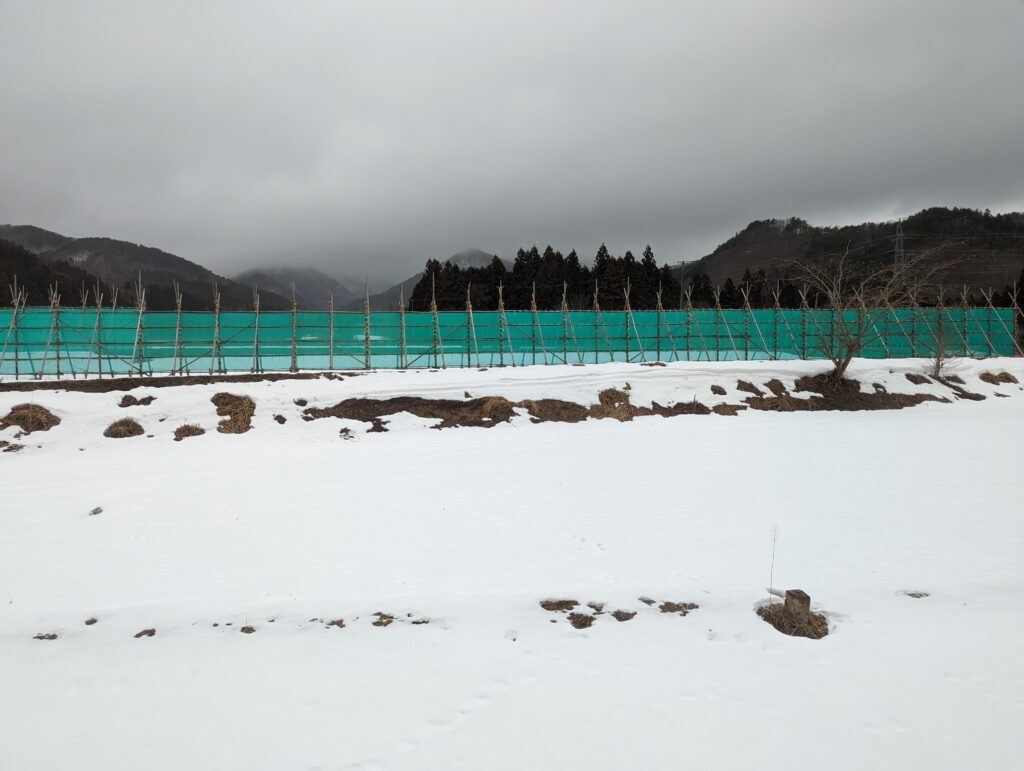 I had hoped to have lunch in Aizu-Wakamatsu, a historically important Samurai city, maybe try their famous tonkatsu or ramen. But the train was over twenty minutes late. Instead, I have to climb up and down the overpass and head straight to the next train.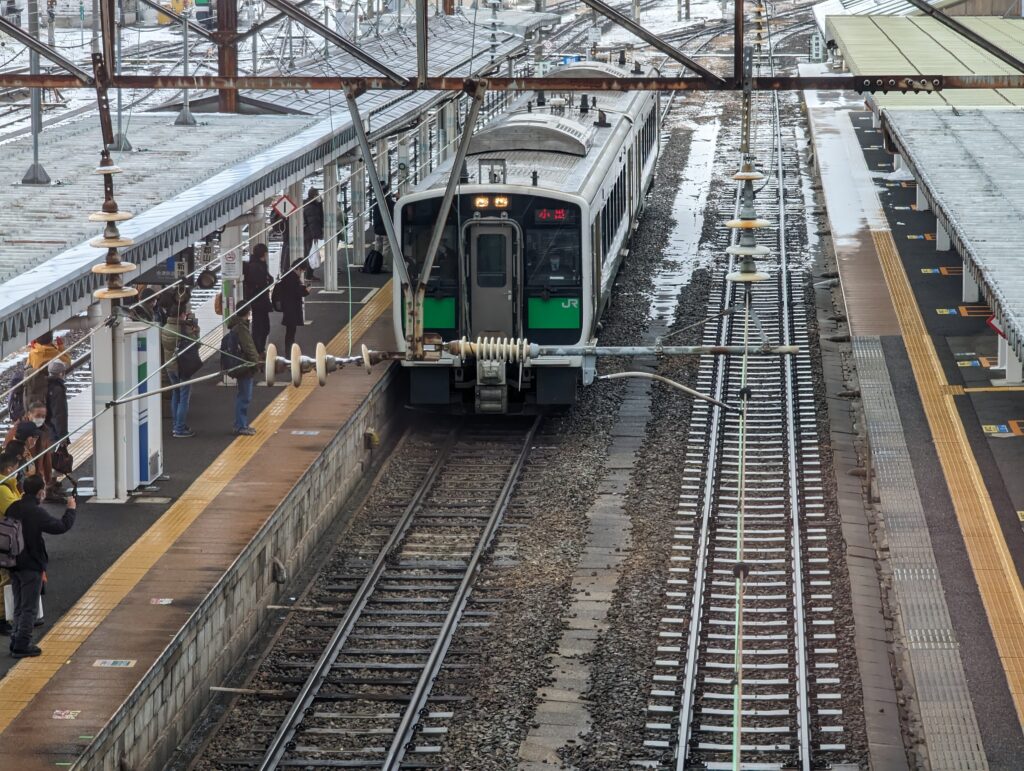 It's already full of passengers. Not 100 percent full, but full enough that I'd have to uncomfortably share space with other passengers. Pairs of seats face each other, a single seat on the left, doubles on the right. I choose again to stand at the end of the train, at the windows looking out the rear.
The two car diesel train rattles off along the single track, out through the suburbs of the city. The palette is even darker now, but for the snow drifts along the tracks.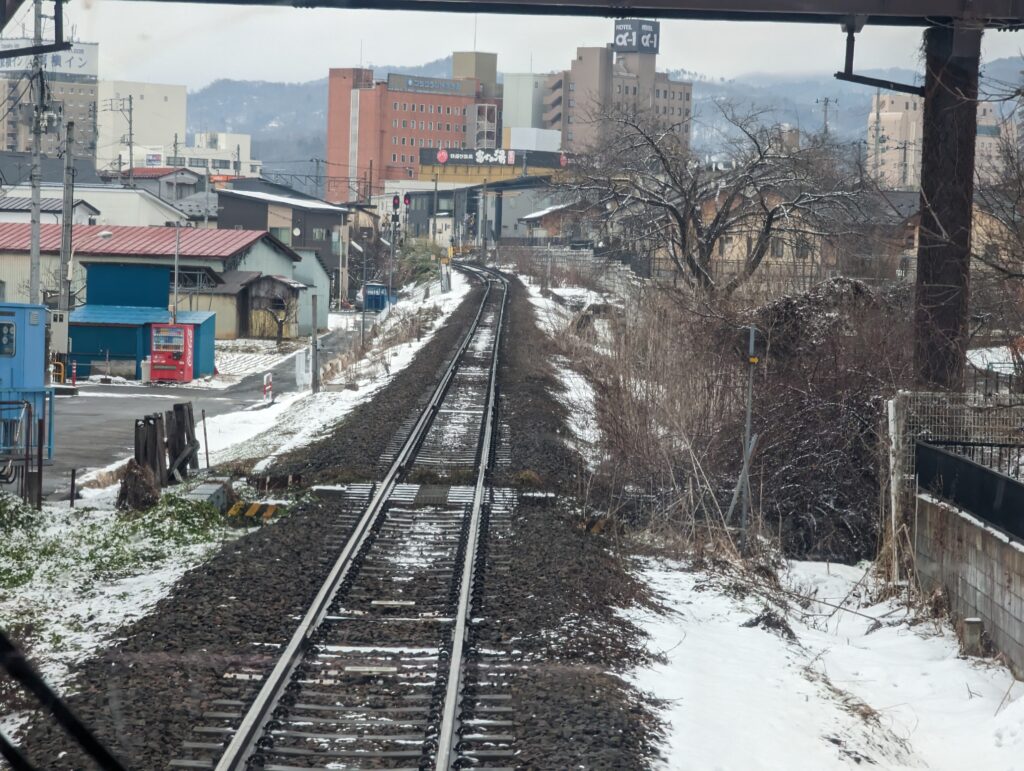 There are factories, including one that makes microchips, a big yellow public bath and fitness facility that looks more like a warehouse. Then we are back in the rice fields, but with a backdrop of mountains encroaching steadily, the snow increasing again.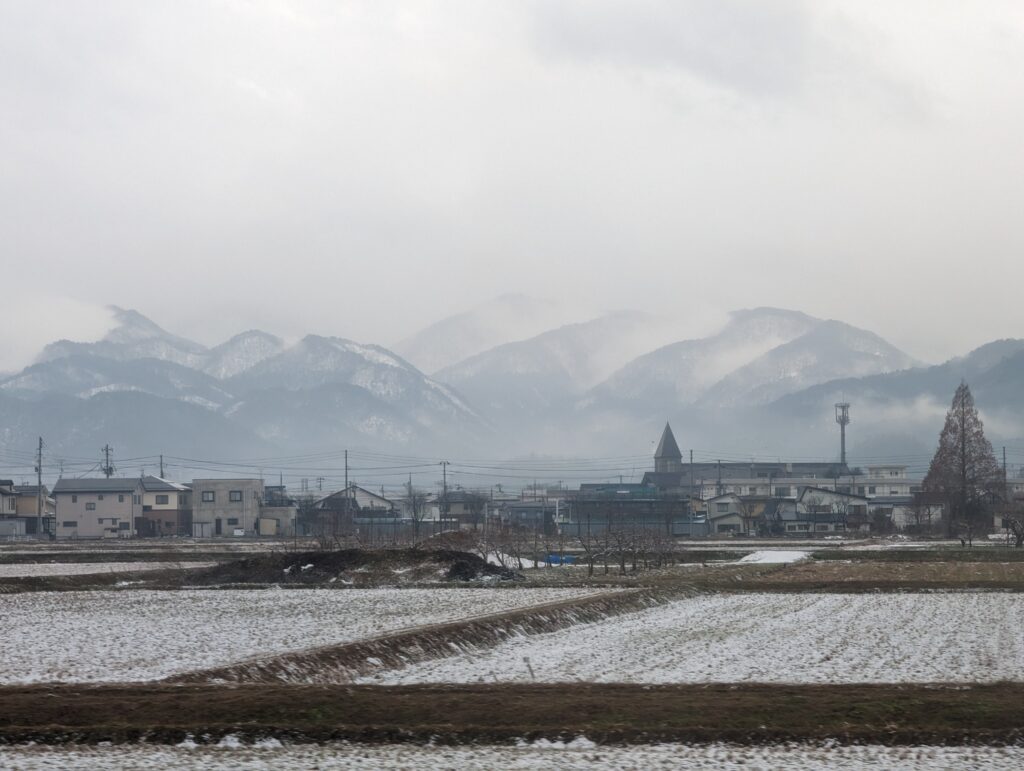 Aside from the frosted tipped pines, most trees are bare of leaves. But now and then we pass trees with red-brown fruits, winter persimmons.
It is when we rise up on a steep gradient into those mountains that the landscape becomes really interesting, with views of the Tadami River valley.
We weave around the river and through the mountains, over bridges and through tunnels. Sharp snowy peaks and jagged rocks make for a dramatic landscape.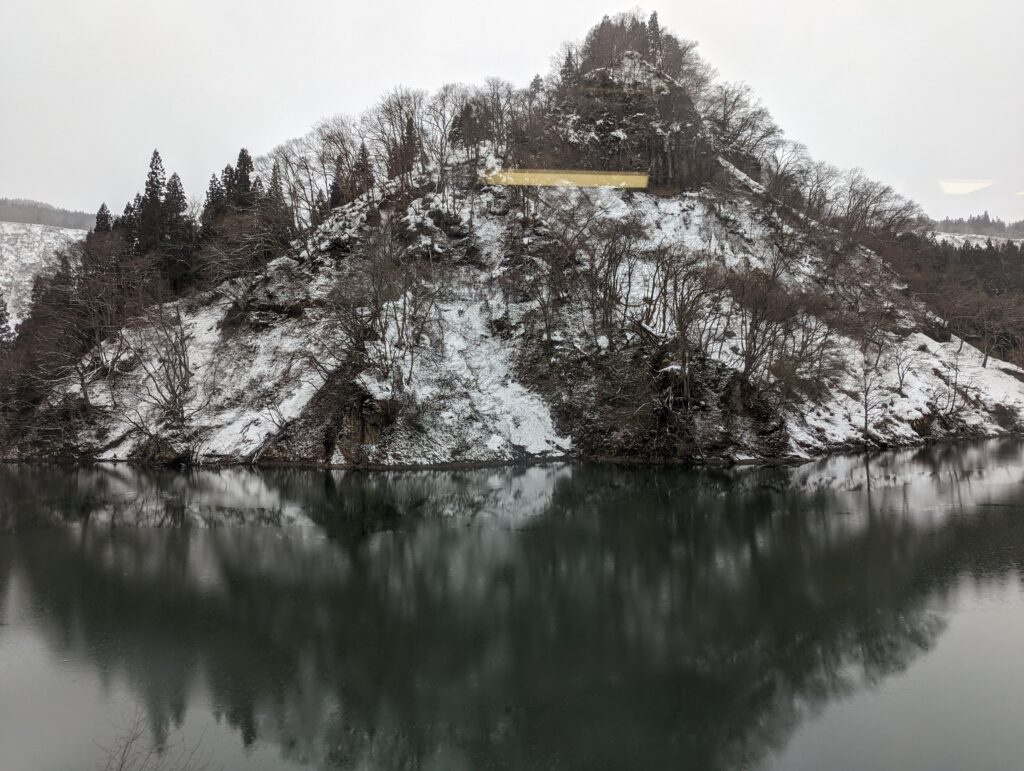 The river is at times narrow, others broad. Sometimes flowing swiftly, sometimes placid. It has been dammed, big concrete walls, for hydroelectricity generation, huge pipes running down slopes, high voltage powerline towers placed impossibly at the tops of peaks.
The scenery is amazing. I am not the only person snapping away on my camera. A few other older Japanese men are also obviously riding the line just for the view.
My food and drink situation has left me a little concerned. I had hoped that, as a promoted tourist line, somebody might board the train to sell local goods, but there is no sign of this.
Eventually, we stop at Aizu-Kawaguchi. A lot of people leave the train to take photos and the train crew seem to be doing something, but I am worried about being left behind if I head out.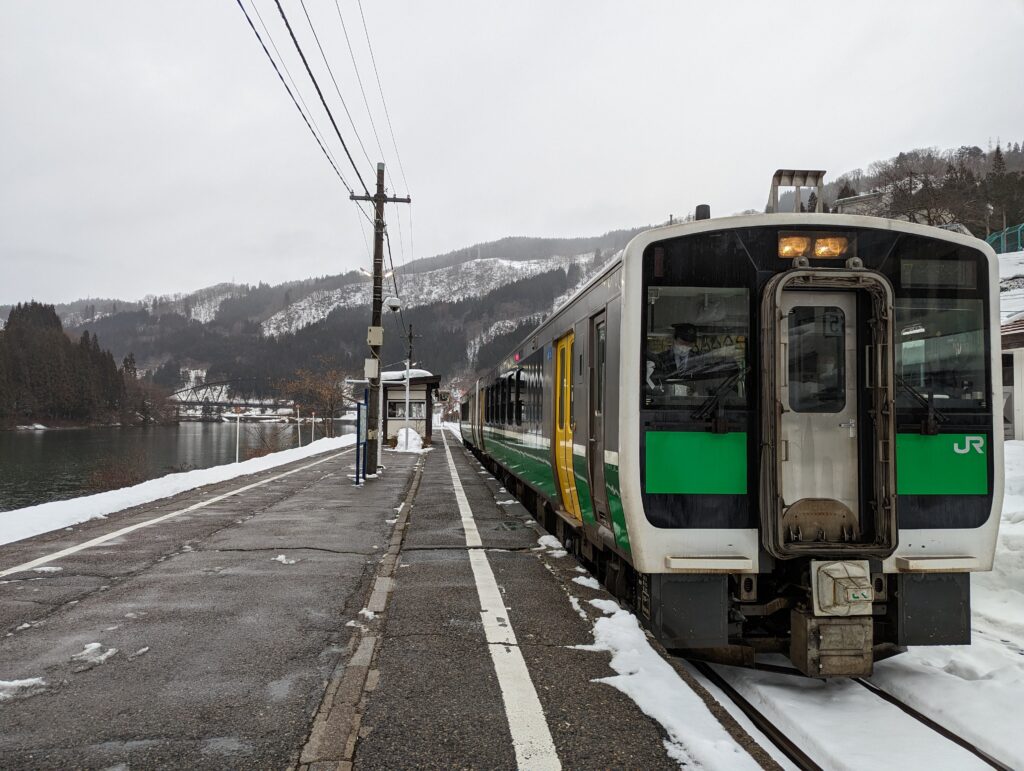 It turns out to be a half-hour stop, enough to grab something to eat. I slip on the icy surface while crossing the tracks. Fortunately, the only result are some damp pants and a bruised thigh.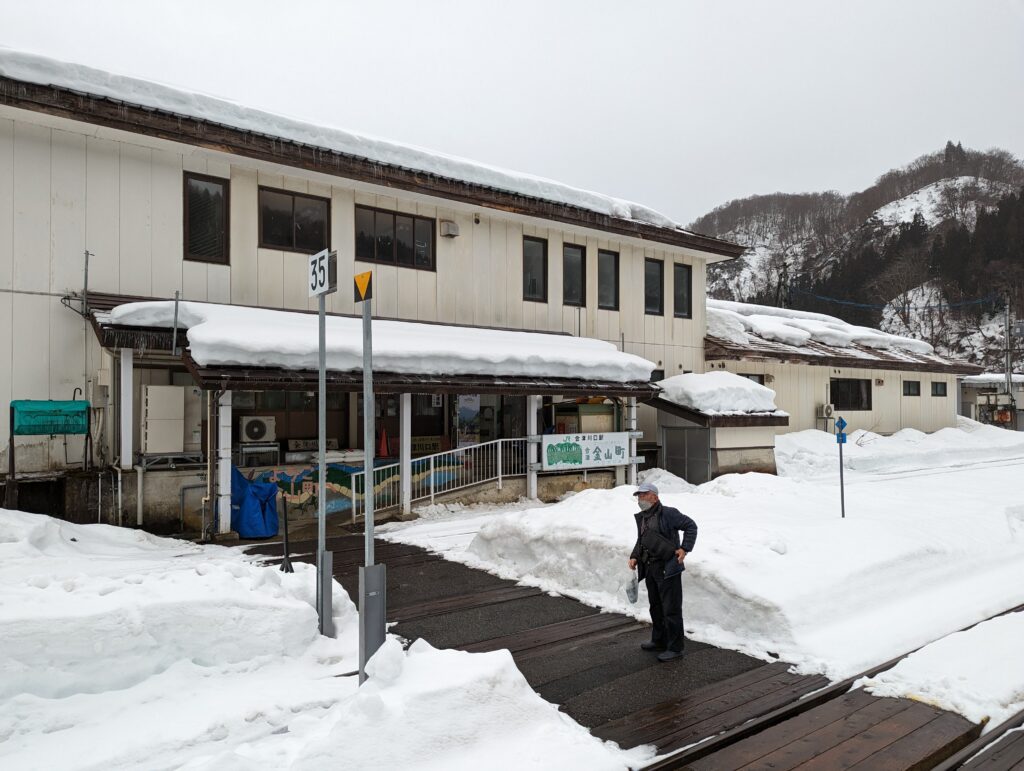 Inside the station building is a small souvenir shop, a JA office and Japan Post. Across the road, a patisserie cafe that may, or may not be open. I spy a convenience store further along and try my luck there.
It's run by an old lady, not one of those chain conveniences, and she has hot buns! By that, I mean there are those meat filled pau buns in the warmer. Pizza buns are my favourite. And, of course, a fridge of drinks. I am saved!
I delight in these tiny rural towns. Sometimes nothing but a lonely collection of houses, but sometimes they surprise you and I appreciate anything they have to offer.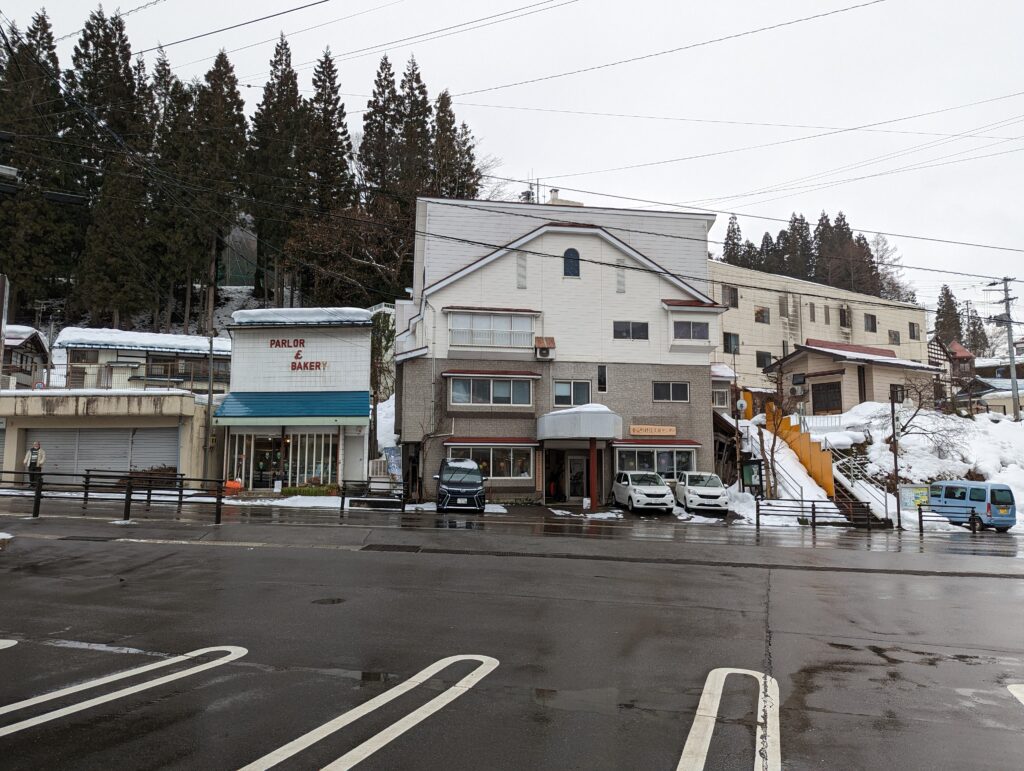 The passengers reboard the train and we continue on our journey. The stunning scenery continues, the landscape almost a black and white photograph, such is the contrast between the snow and everything else.
We stop again at the line's namesake, Tadami. Here the driver only operation ceases and a guard, a young lady with a strong voice, boards.
The route leaves the Tadami River, but continues along the valleys of other streams. Often narrow, with steep slopes, snow collapsed from avalanches. There are long tunnels and fewer towns.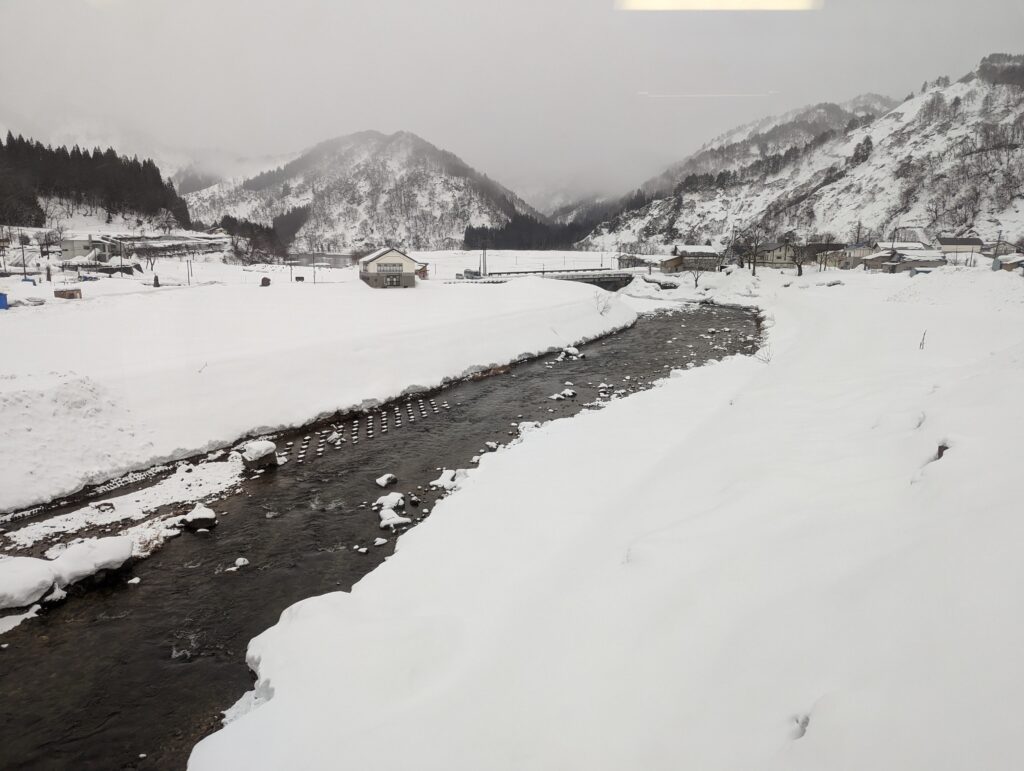 The light fades quickly in winter, but I love the crystal clarity of artificial lights in the night and their illumination of the snow. Street lamps and passing cars. The red, blue and white spiral spinner barber pole.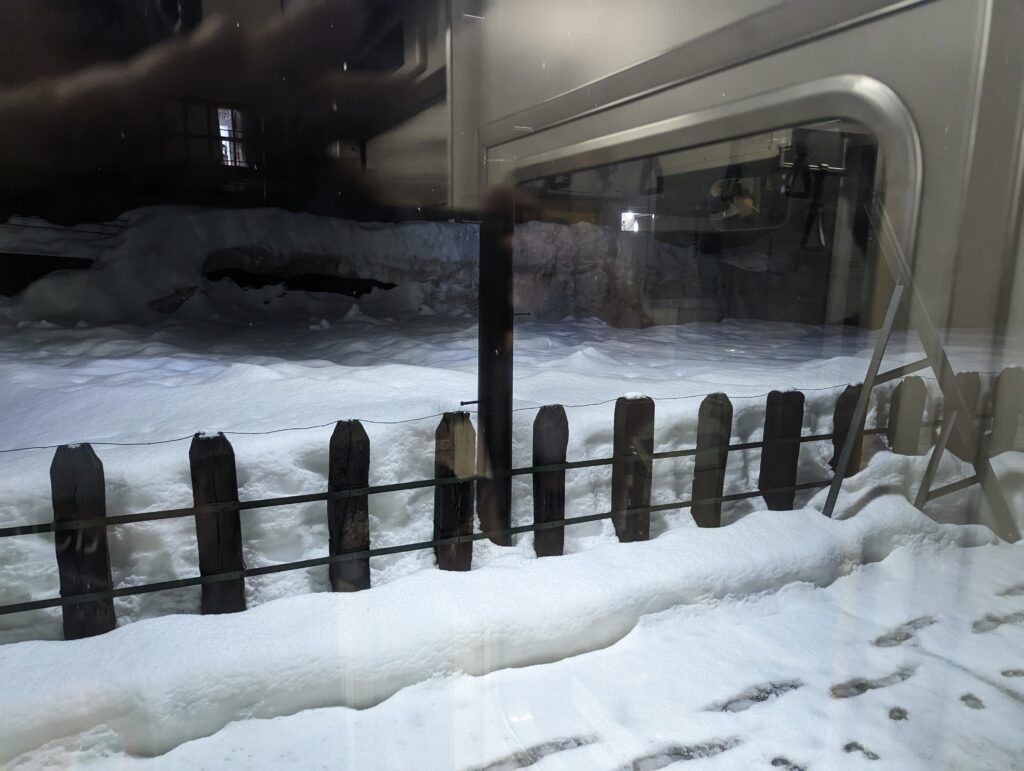 Evidence of life in a seemingly empty landscape. Hints of magic.
After over five hours on this small train we arrive at the terminus, Koide. There is heavy snow outside and flakes are still drifting down. However, the platforms are kept clear by sprinklers in the ground and the rails by water sprayed between the tracks.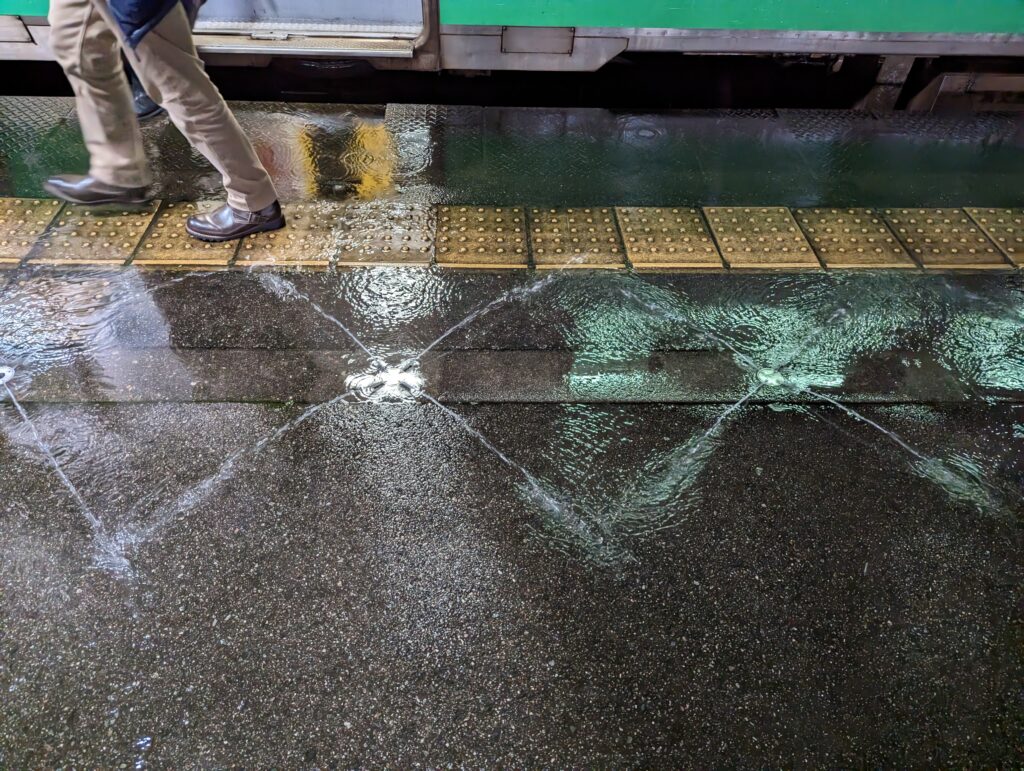 We farewell the train, which soon returns back to where it came from and climb the overpass towards the station building.
There's only a waiting room and vending machines open at the station. Outside taxies queue, a bus arrives. There is a liquor store and apparently an izakaya further up, but the main shopping street is across the river.
A business hotel, an Okabe, is the only other substantial building by the station. If I was travelling alone in Japan, I would probably stay there tonight. It's the kind of convenient-to-transport lonely hotel I like, though it would be nice if there was something to eat.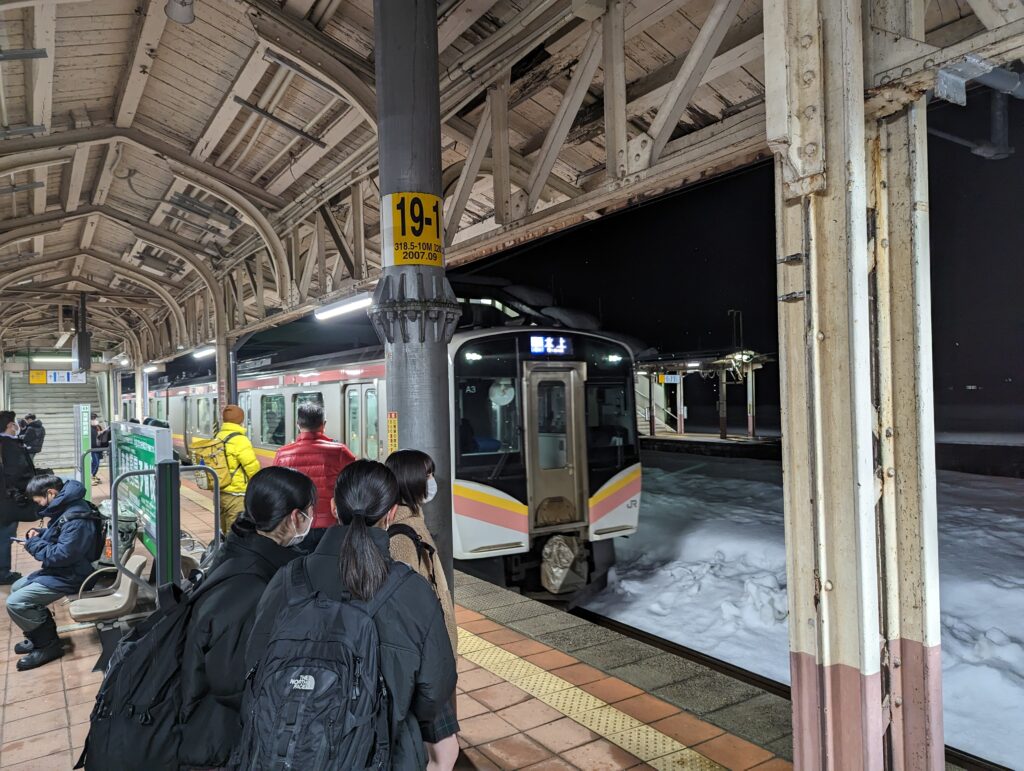 I need to return to Shinjuku, however. My warmth and sustenance comes from cans of corn soup and hot chocolate that I retrieve from the vending machines on the platform.
A local train for Naoetsu arrives at the station. I have to wait half an hour longer for one in the opposite direction. It is a relief when it arrives and I can finally sit down somewhere warm.
Urasa is only a couple of stops away. I change to the Shinkansen line on the big, and rather dead, platform, heading to the unreserved section, hoping to get a good seat.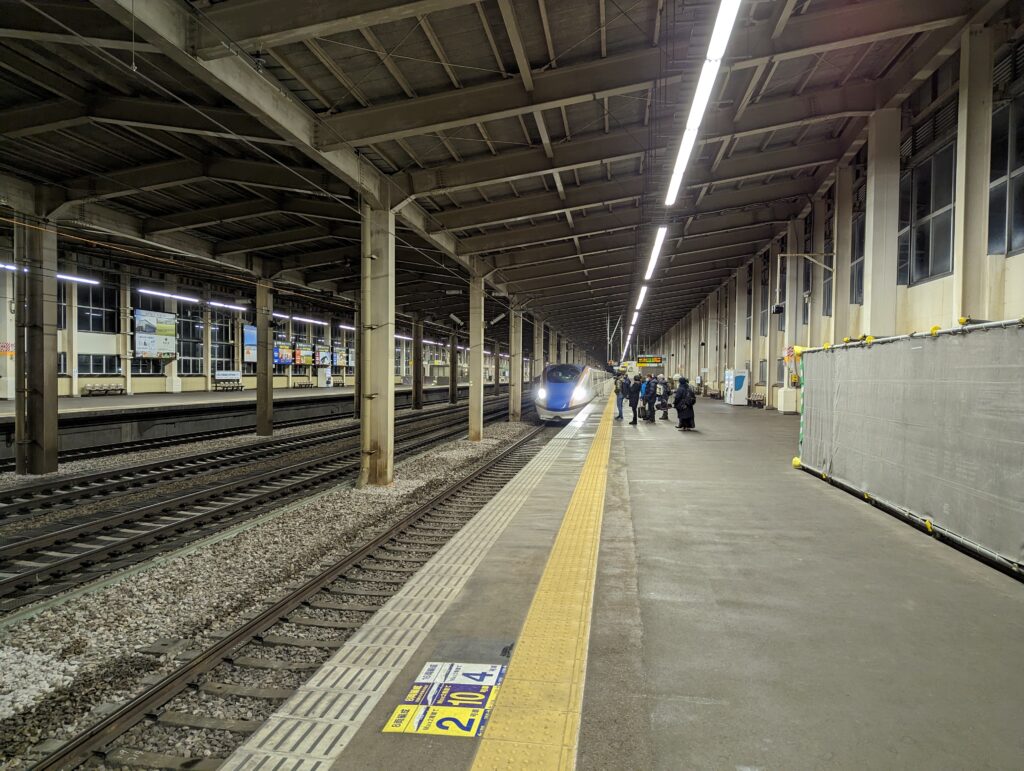 Another passenger from the Tadami Line recognises a fellow train photographer and says hello.
The Shinkansen pulls up and I find a seat by the window, recline the seat, lift the head rest, plug my phone charger into the wall socket and relax. For all the joy of a small local train in rural Japan, a comfortable Shinkansen is a relief at the end of the day.
Nightime Japan flies past outside the window. The bright neon of pachinko parlours, family restaurants, shopping centres. Dark farmland and tunnels.
Almost before I know it, we have arrived in Omiya, where I get off.
One last train for the day, a rapid line to Shinjuku. While I wait I buy a can of hot creamy stew from a vending machine.
The suburban nightlife is more intimate than along the Shinkansen line. I love watching the crowds in the covered shopping arcades, people working out in gyms, students in their coaching schools, salarymen out for a drink. Tokyo is very much alive at night.
When we pull into Shinjuku Station is almost exactly twelve hours since I set off. I'm forced to exit at Shinjuku's South Gate on arrival, the opposite end to where I need to be. I walk back towards the hotel, looking for somewhere to eat.
I am tired. I want something easy to order. I don't want crowds or touts or smoky bars. Shinjuku has a lot of food, but it's a busy, active, noisy place. I would much rather be in a small cafe in a quiet town or suburb right now.
My search brings me back opposite the hotel, where B and Alex are waiting. Maybe I'll eat sushi, but to my disappointment Sakura Sushi, across the road from the hotel and a long term favourite, is closed.
I wander through an alleyway behind and end upstairs in a ramen bar that is exactly what I need. Quiet, with locals rather than noisy tourists, hot bowls of thick noodles and tender chasu pork, or char siu.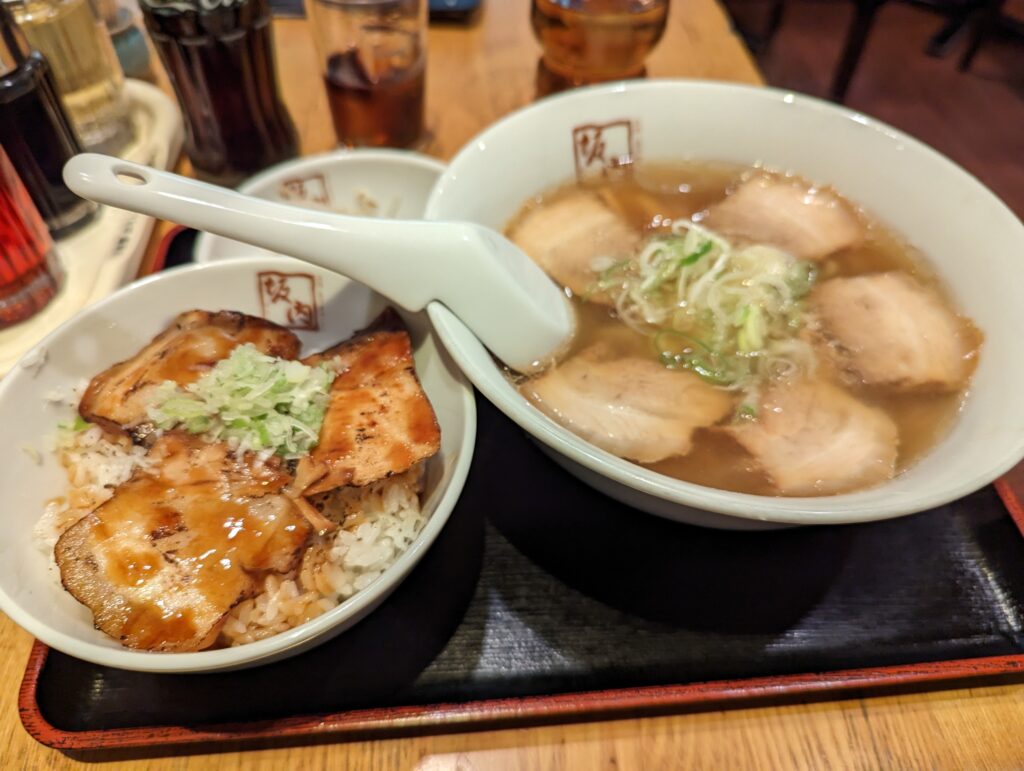 Then it's up the lift to return to my family and a wonderful, hot, bath.