So. Many. Stairs.
My legs are tired. My lungs are out of breath. I slip my mask off briefly just to suck in more air. I'm outdoors, it doesn't matter.
Was it worth it?
Definitely.
Where shall we go today? The consensus is out of Tokyo. I look at a map. Alex hasn't seen Kamakura, B and I haven't been there since 2005. There's a suspended monorail.
First comes a Japanese breakfast of fish and rice at a small restaurant in Nishi-Shinjuku that B is determined to eat at. It's not my favourite way to start a day.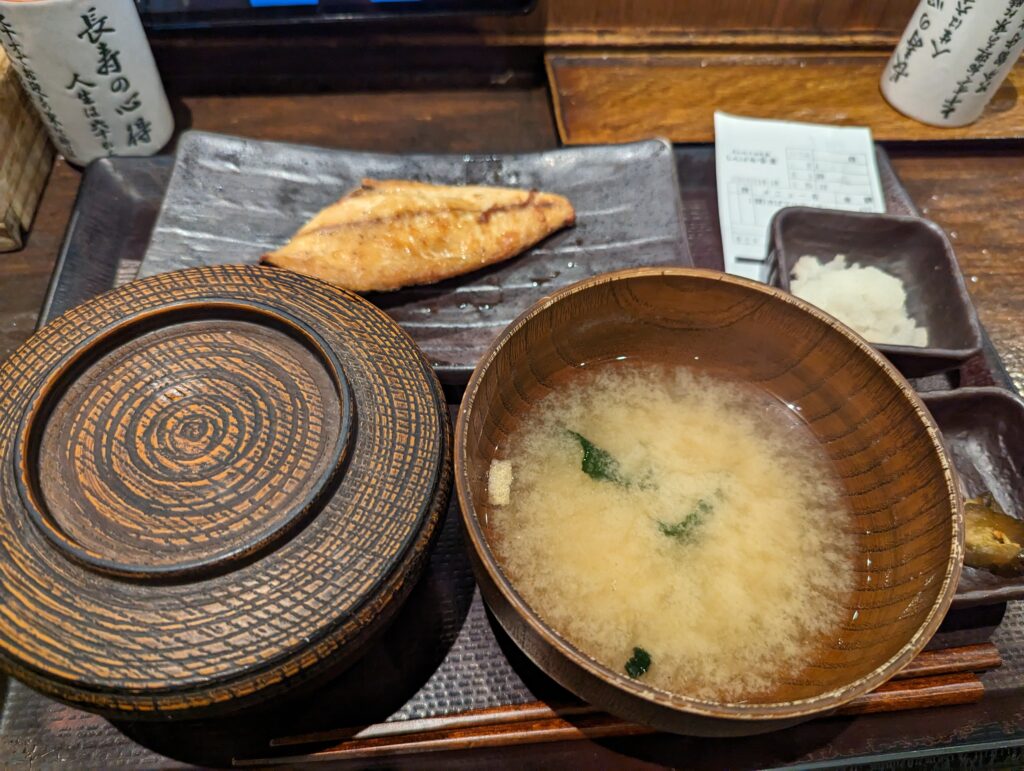 The Shonan-Shinjuku Line delivers us to Ofuna. From there we transfer to the Shonan Monorail. This is our second suspended monorail after Chiba and it's cool.
A single track, except at selected stations, we swing around, tilting at curves, run through tunnels and have views high over town. Suspended monorails are great forms of transport!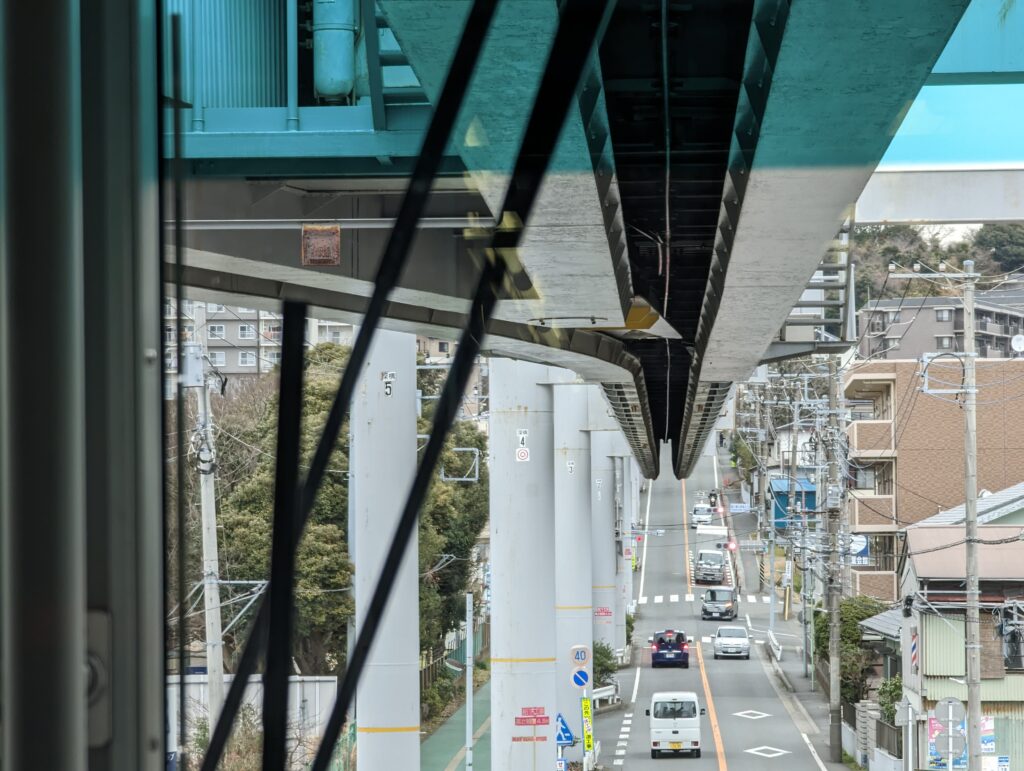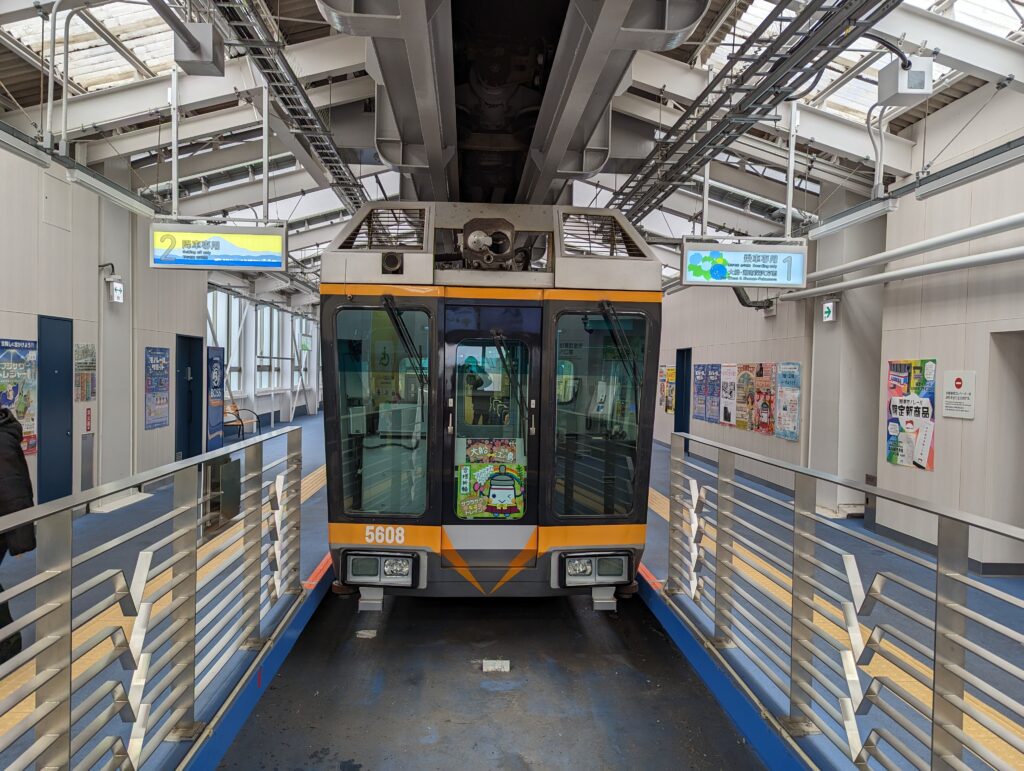 Enoshima is obviously a tourist town, from the little shops and eateries that line the road to Enoshima Island. There's a strong Hawaiian theme to many as that's where many Japanese go for beach holidays.
As for me, I need to find a bathroom. I think I had too much corn soup yesterday…
Meanwhile, B and Alex have walked over to what looks like a Chinese temple. It turns out to be the terminus of the Enoshima Line. On the way we crossed the Enoshima Dentetsu, or Enoden, railway which runs its famous trams along the coast. The area is very well served by rail!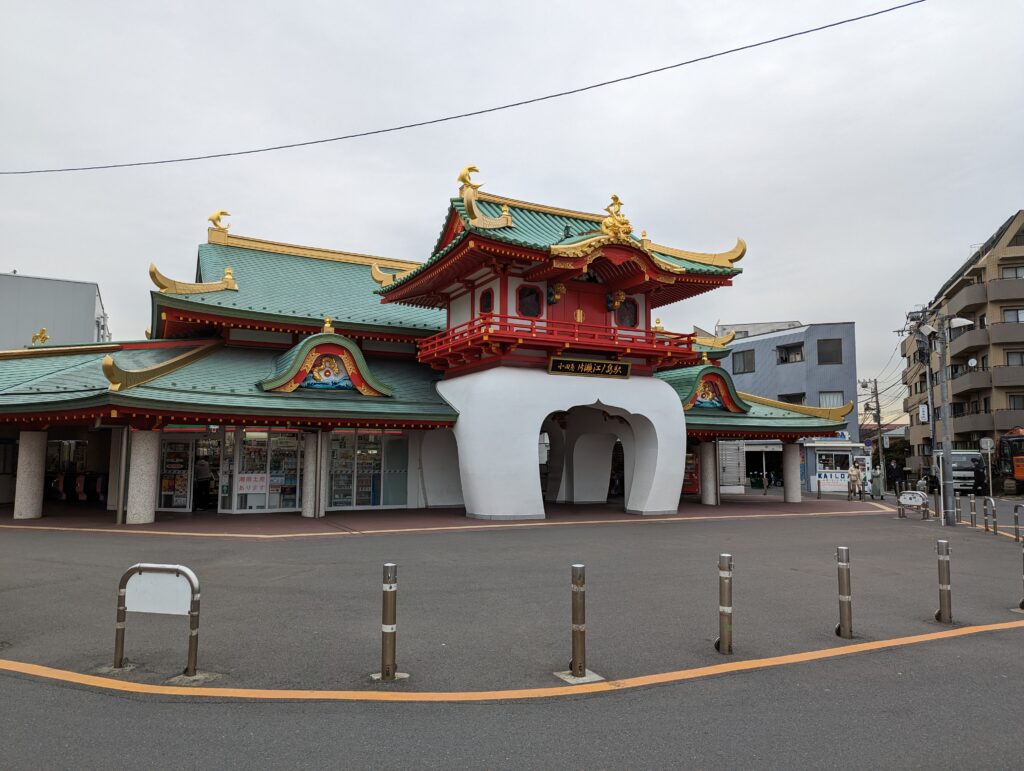 A long bridge connects Enoshima Island to the mainland. The uninviting dark grey sand that makes up it's beaches is being dredged.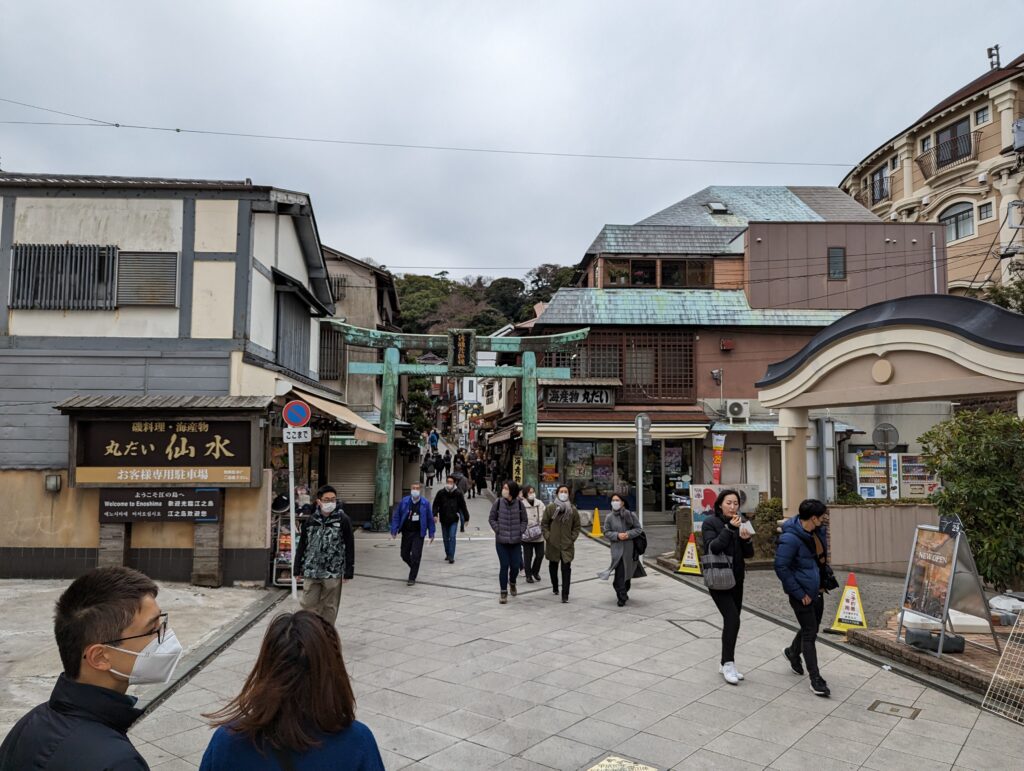 A cheerful shopping street leads up steep stairs to the Enoshima temple complex. B and Alex take the easy way and buy tickets for the escalator system.
I walk.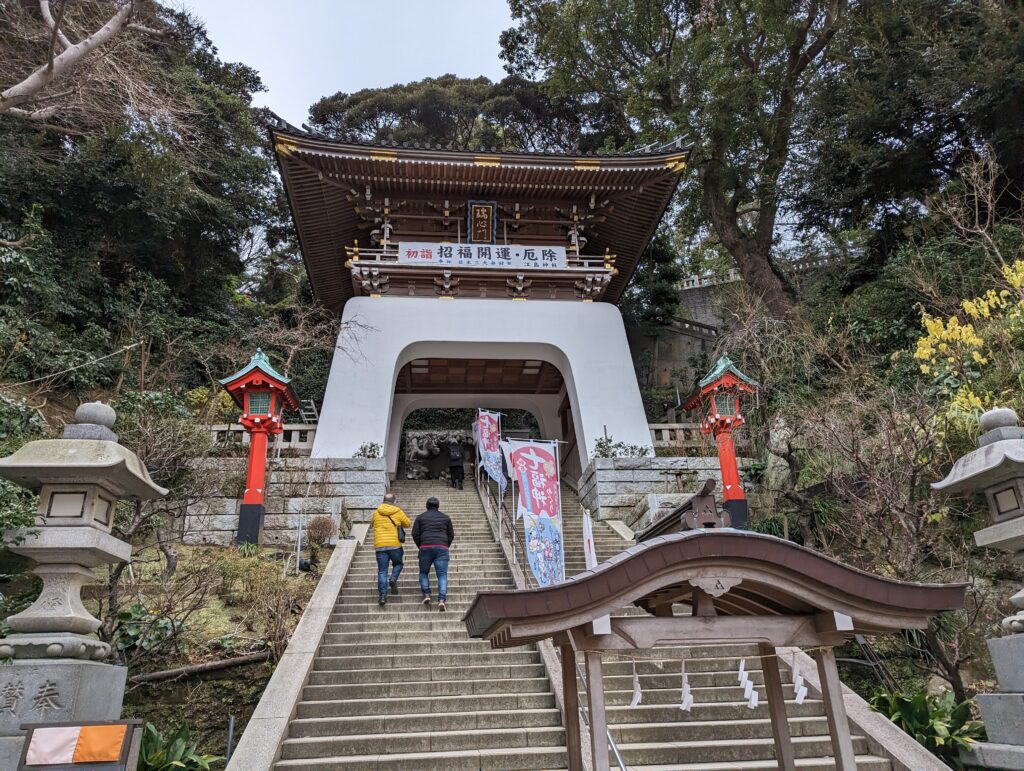 Aside from the temple there are gardens, eateries and great views around the island. We buy tickets up the view tower and are rewarded with 360 degree views of the bay. Mount Fuji is mostly hidden, but the golden light over the hazy mountains and curving black coastline is stunning.
I watch US military aircraft descending into their bases. An Osprey, Hercules, Globemaster, Chinook and more.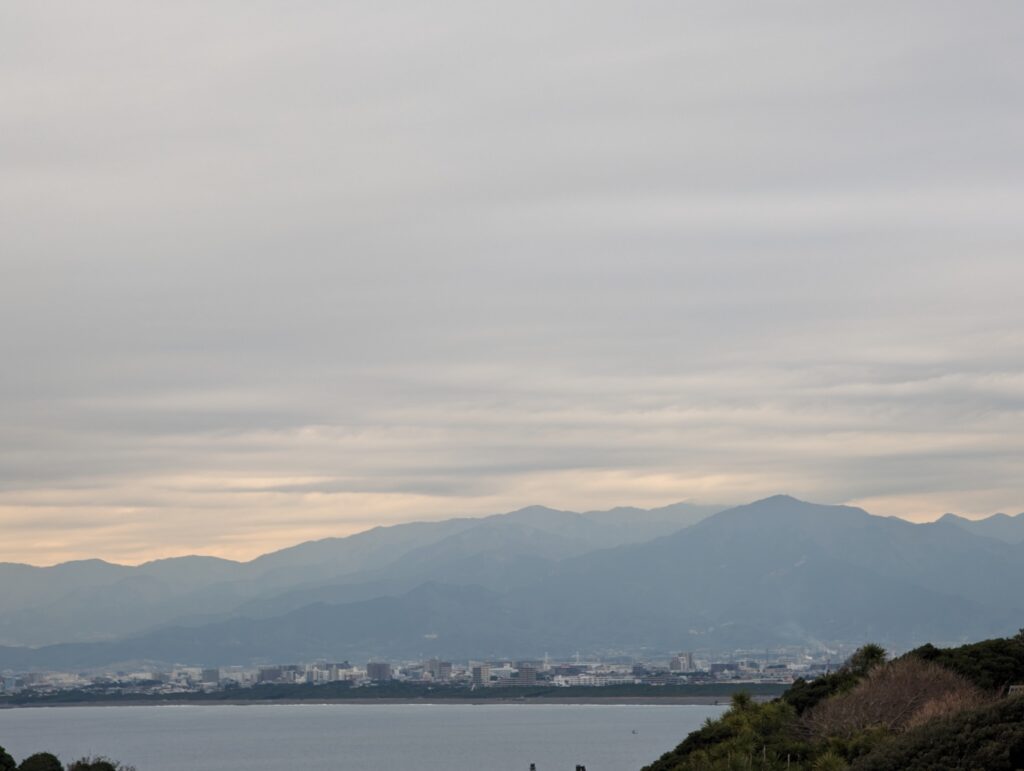 The gardens below the tower are lit up with colourful lights, a tunnel of purple LEDs, electronic wisteria.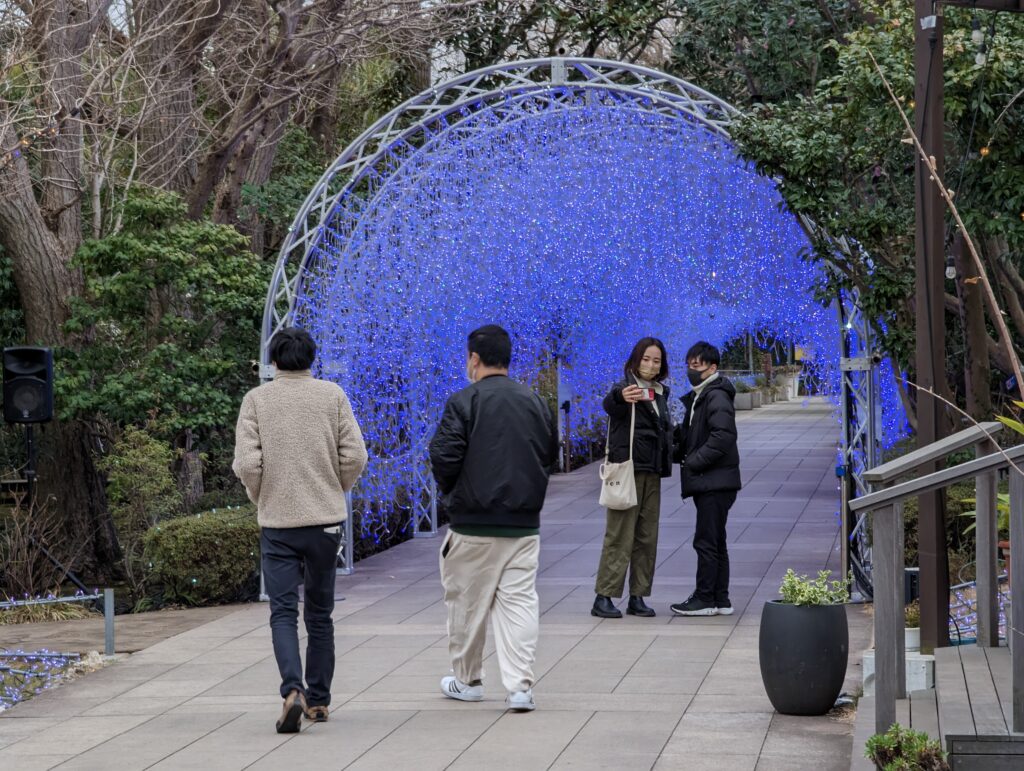 We continue on, crossing to the second island past dilapidated and abandoned buildings that retain their own kind of beauty about them.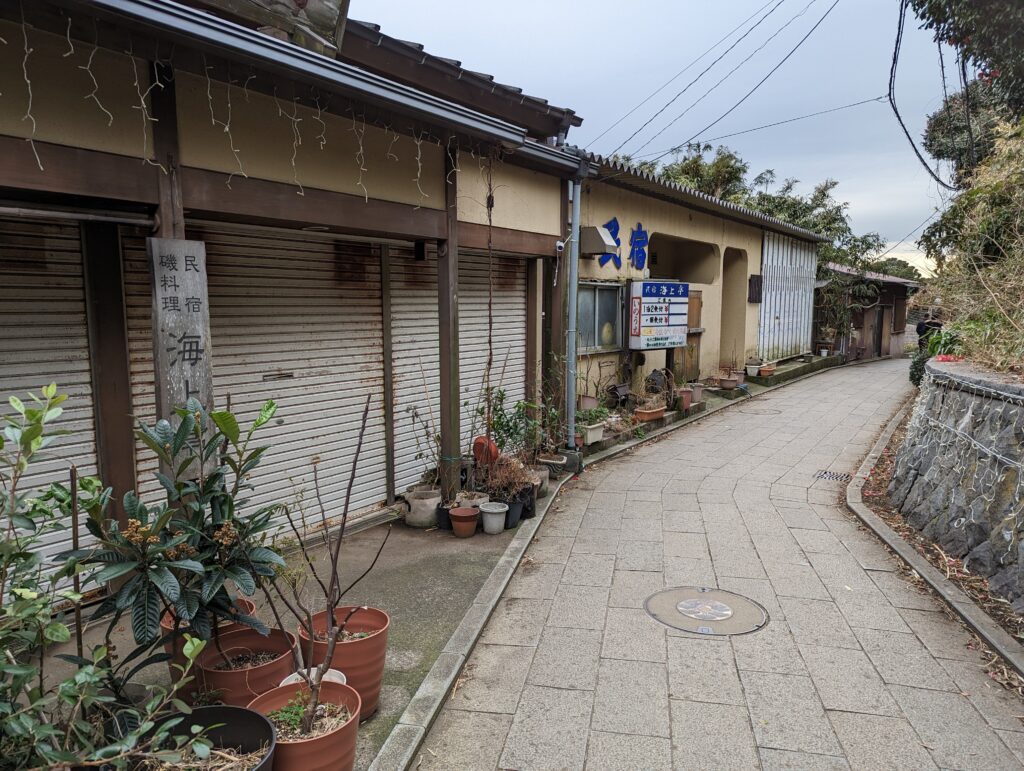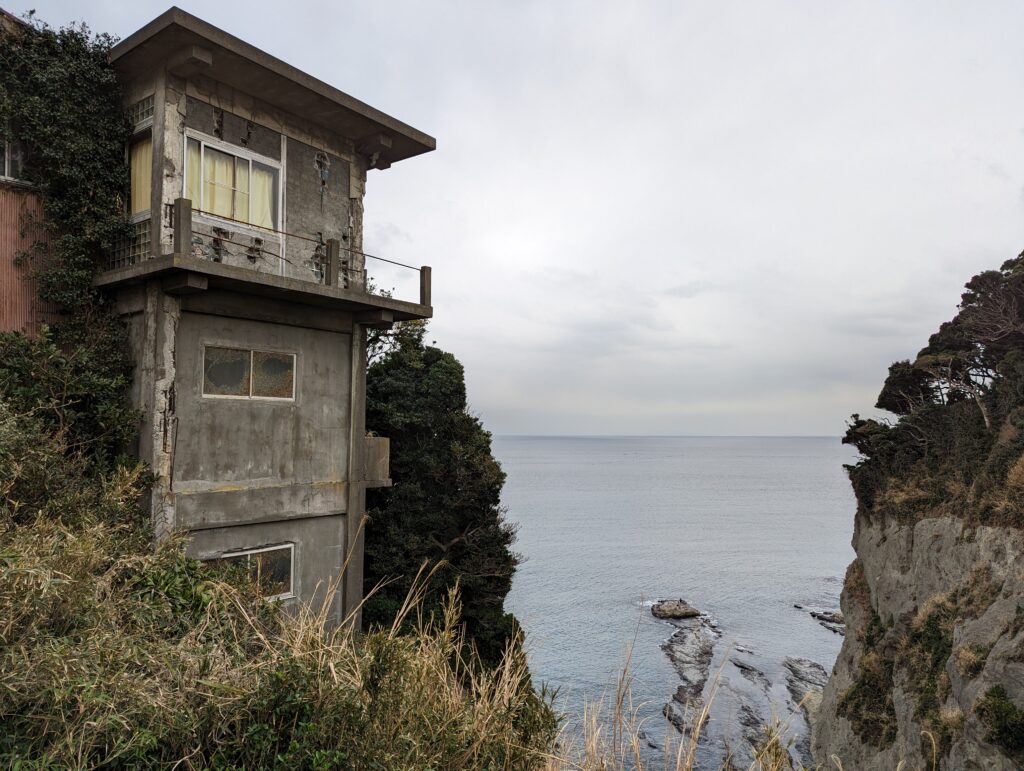 Then came steps without relief of an escalator. What goes down towards the rocks and the caves must come up again.
Our legs were killing us. But we had no choice. We weren't going to spend the night here! On the way back we pass restaurants with beautiful views over the coast, but the others refuse. We haven't eaten lunch and it's already the end of the day.
We trudge back to the mainland. No escalators going down, just legs. Down past the temple. We stop to buy grilled squid and scallops at one of the restaurants, paying far too much.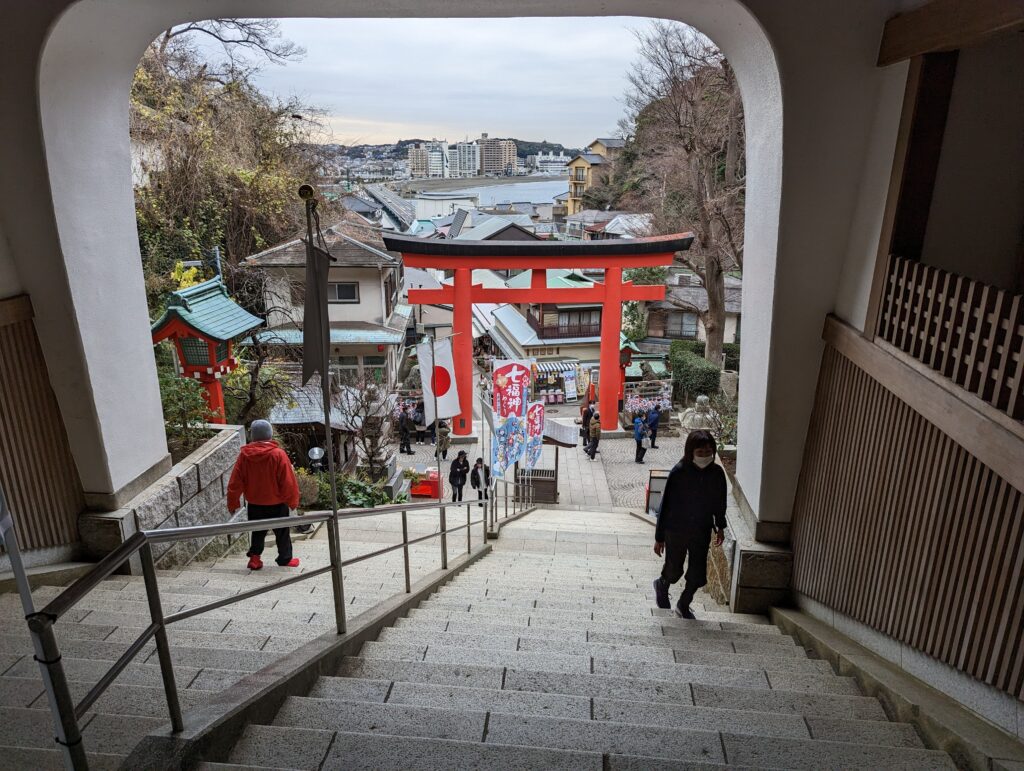 Across the bridge we find a more reasonable place for a dinner of tempura, fish and rice. Then we keep walking to catch the Enoden. Now, our original plan was to go see the Big Buddha and the temples, like we did all those years ago. But it's too late for that now.
I think we enjoyed Enoshima instead. But it's still nice to ride the Enoden to Kamakura station, watching as it squeezes its way through houses and shops and along the coast.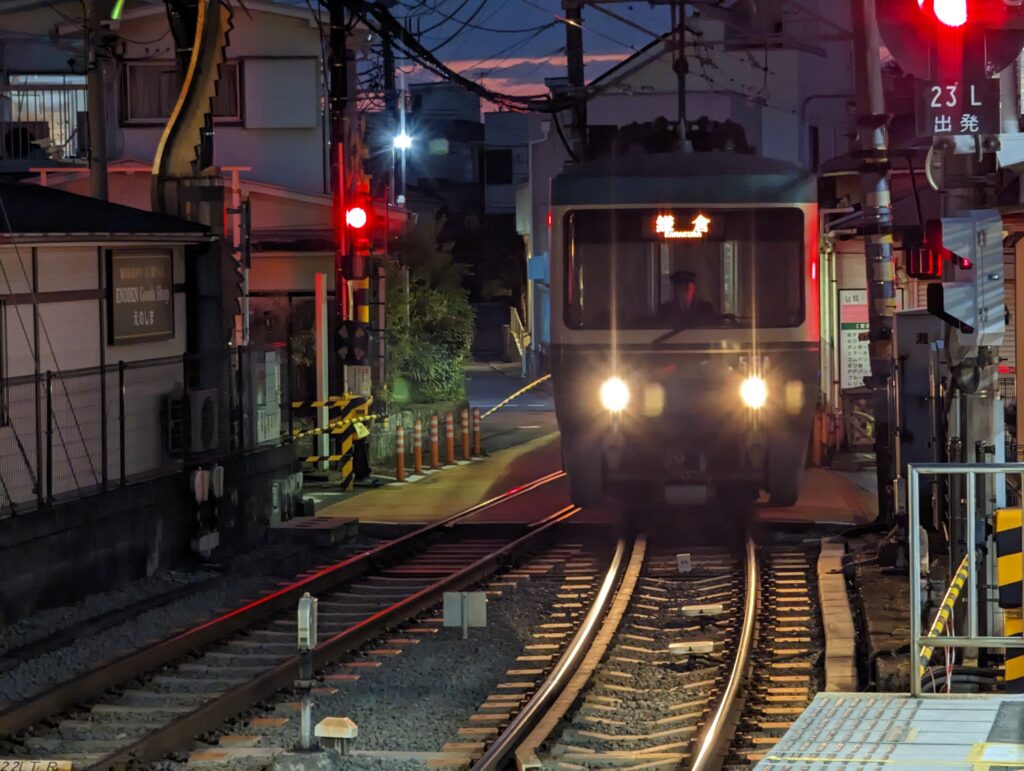 From Kamakura station we catch the slower Shonan-Shinjuku Line back to Shinjuku, watching the city night life play out through the window.
The day is not yet done. We emerge from the New South Gate of the station into a closing Takashimaya department store. Our destination is Tokyu Hands, which sells all sorts of wonderful items. B finds a really nice bag to carry her work laptop.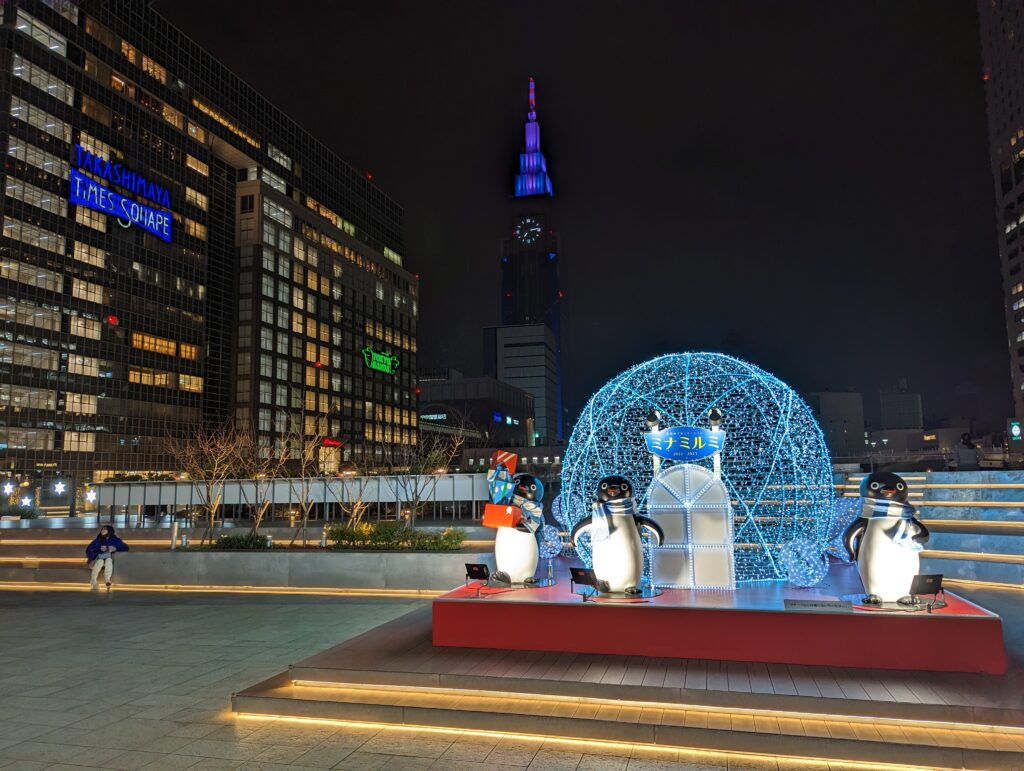 Next we cross into West Shinjuku for the Yodobashi stores. They sell all kinds of electronics. Alex looks at games, I browse model railways and VAIO laptops. B is bored.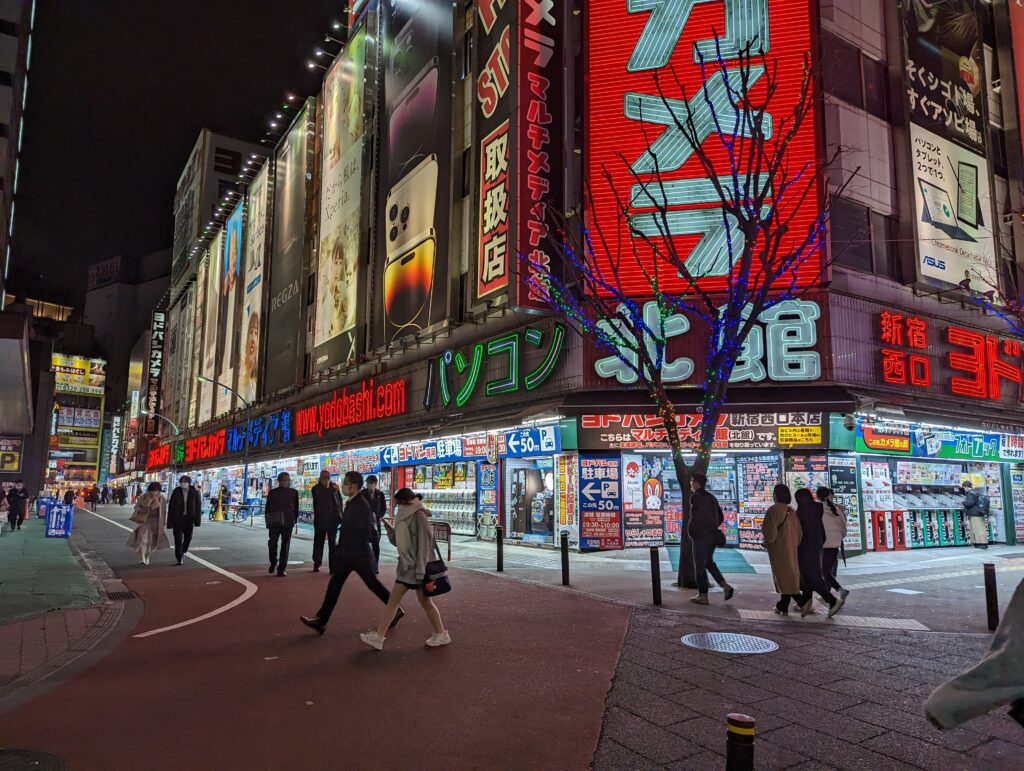 We walk back through smoky Yokocho Omoide, a narrow alleyway of yakiniku bars full of foreign tourists. We pass Kameya, a soba bar where, on our first visit to Japan, in 2003, the owner was so excited to serve foreign guests he took photos of us. I bet he's sick of them now.
The others don't want soba, but fortunately Sakura Sushi opposite our hotel is open tonight. It is a relief to see the old owners still there's seventeen years after we first began dining there. Sadly, due to covid, the sushi train only serves ads now and you need to order each plate individually.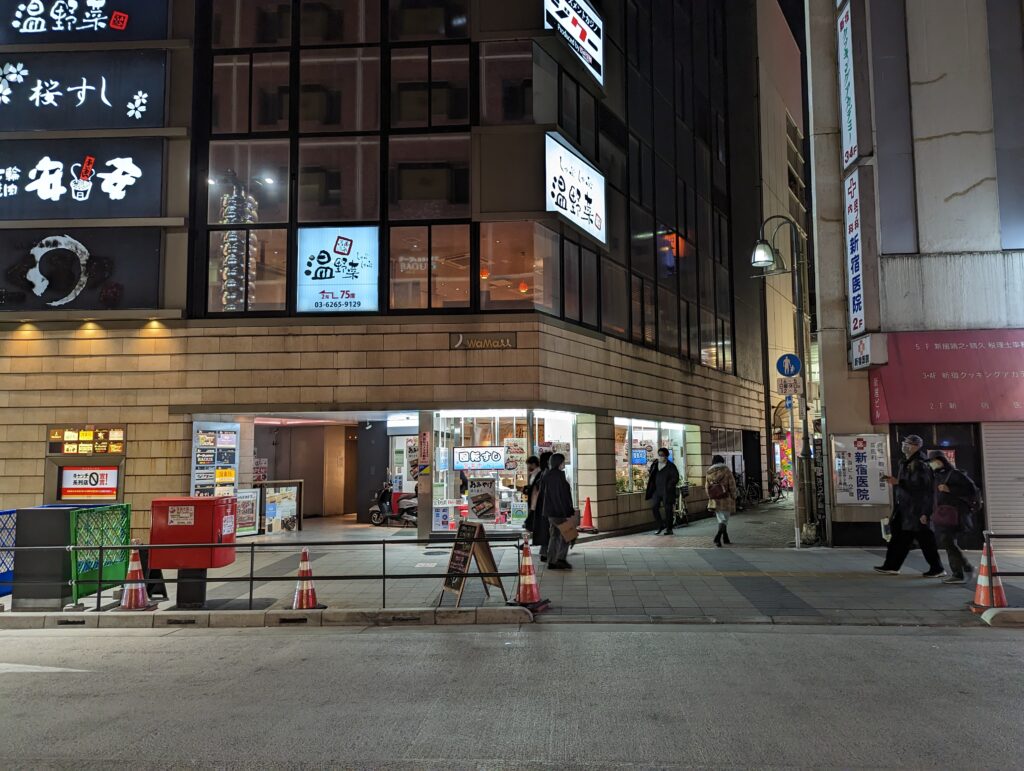 After all of that it was a relief to be back in our hotel room for one last night.