We say farewell to Tokyo and our favourite Shinjuku Prince Hotel and head off to our next destination. Again, we catch the Shonan-Shinjuku Line, this time to Omiya.
Although we missed out on Mount Fuji yesterday, it's brilliant blue skies today and the conical volcano is visible from our train.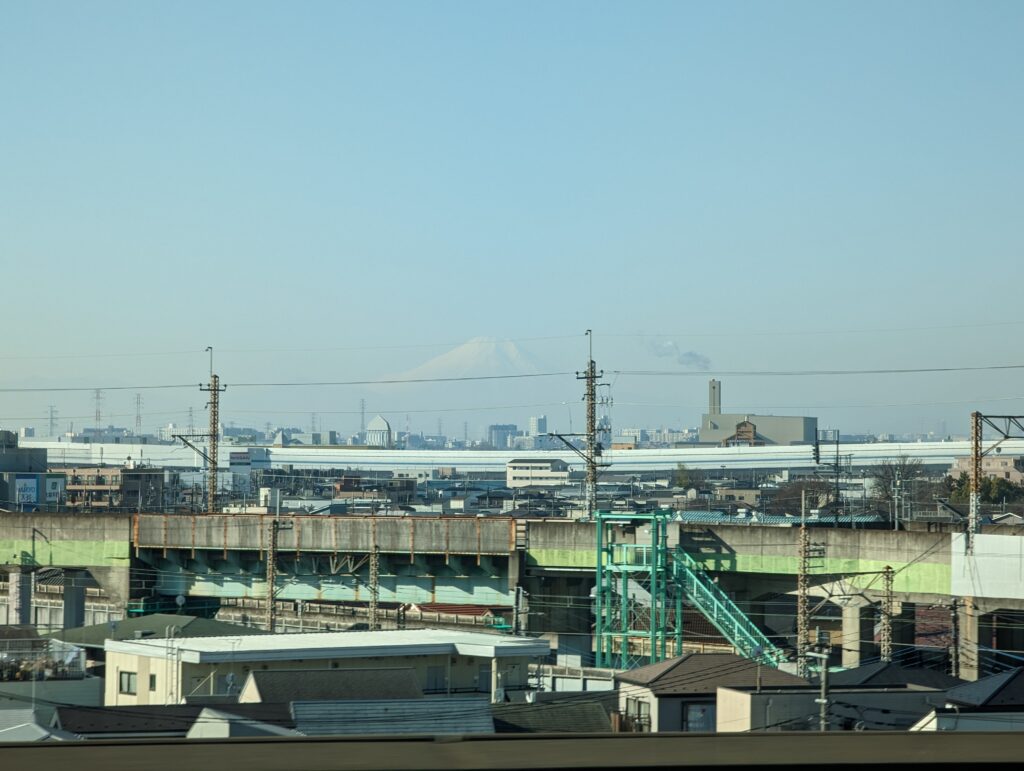 We have some time to waste before our transfer to the Shinkansen. So we spend it shopping. There's a fantastic train shop there which sells Japan Rail related paraphernalia.
There is also a department store selling all sorts of food. Cakes, bento boxes, hot food, cool food, sweet food. We buy way too much for our breakfast/lunch but it all looks so good!
A Shinkansen takes us on our next leg to Nagano, glimpses of snowy mountain ranges visible now it's day.
At Nagano we transfer to the Nagano Dentetsu private railway. The dingy underground station office doubles in selling local produce, like enormous apples.
Our Snow Monkey Express to Yudanaka is a very welcome trigger of memories. A converted Narita Express like the first train we ever rode in Japan.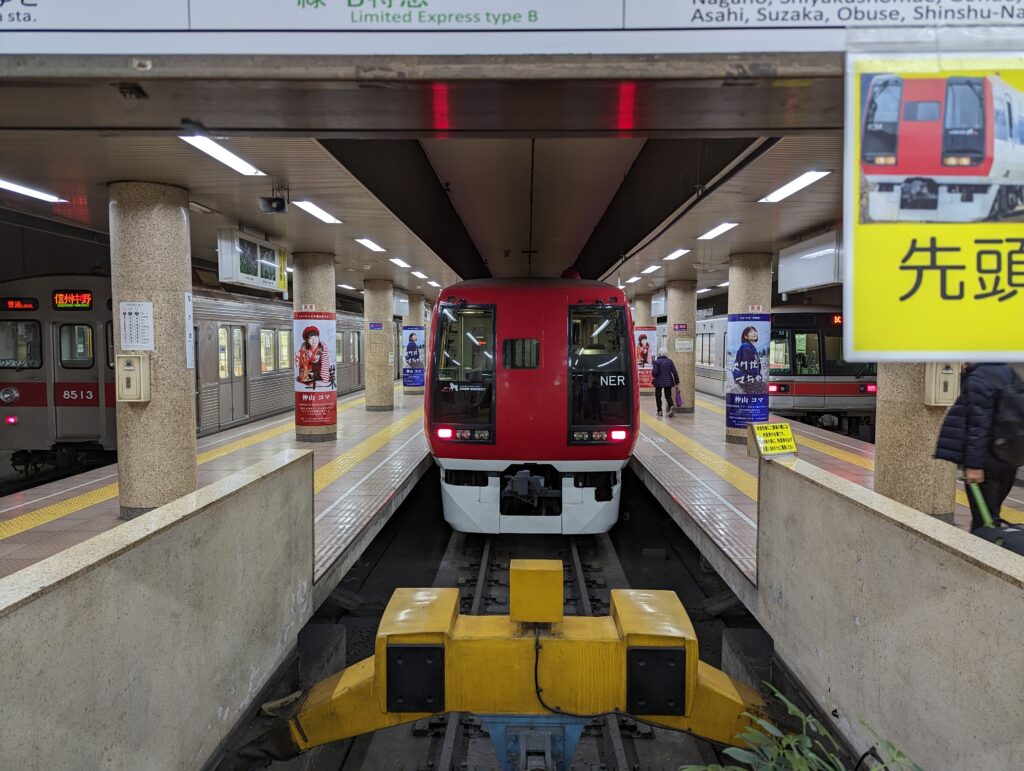 After emerging from the underground tunnels we pass suburbs of Nagano, the apple orchards. The spectacular mountains.are getting closer, the gradient increases.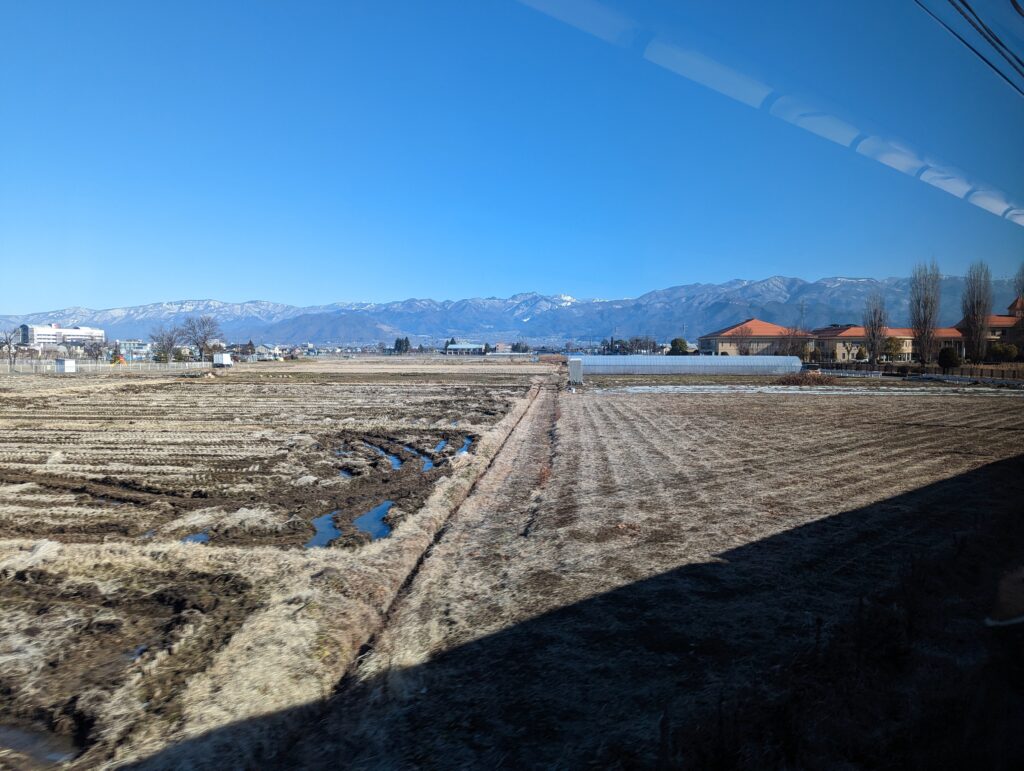 And then it's all over and a little bit of a disappointment as our ryokan driver takes us to our accommodation in nearby Shibu Onsen.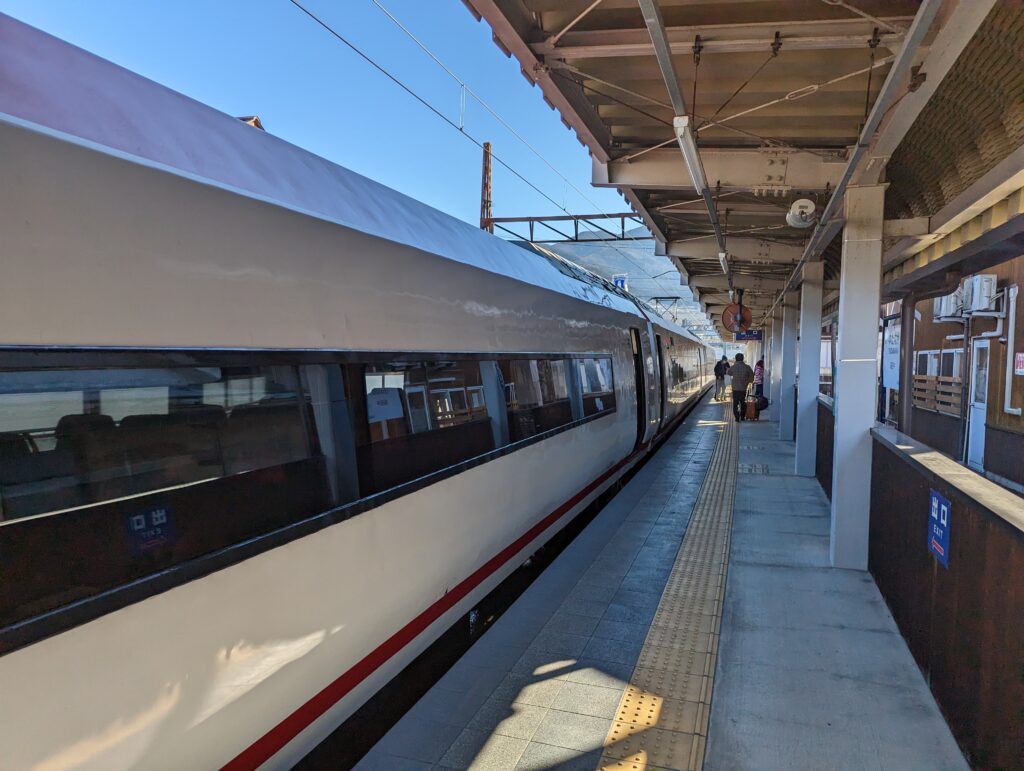 Where is the snow?
Five years and three days ago we couldn't get to Yudanaka due to heavy snowfalls closing the line.
Now? Just a few drifts.
The ryokan is very nice though. After dumping our luggage in the beautiful tatami room, we are given a lift up to the snow monkey park.
Again, there is the disappointment of now snow, just a crusting of slippery ice on the path and drifts along the slopes.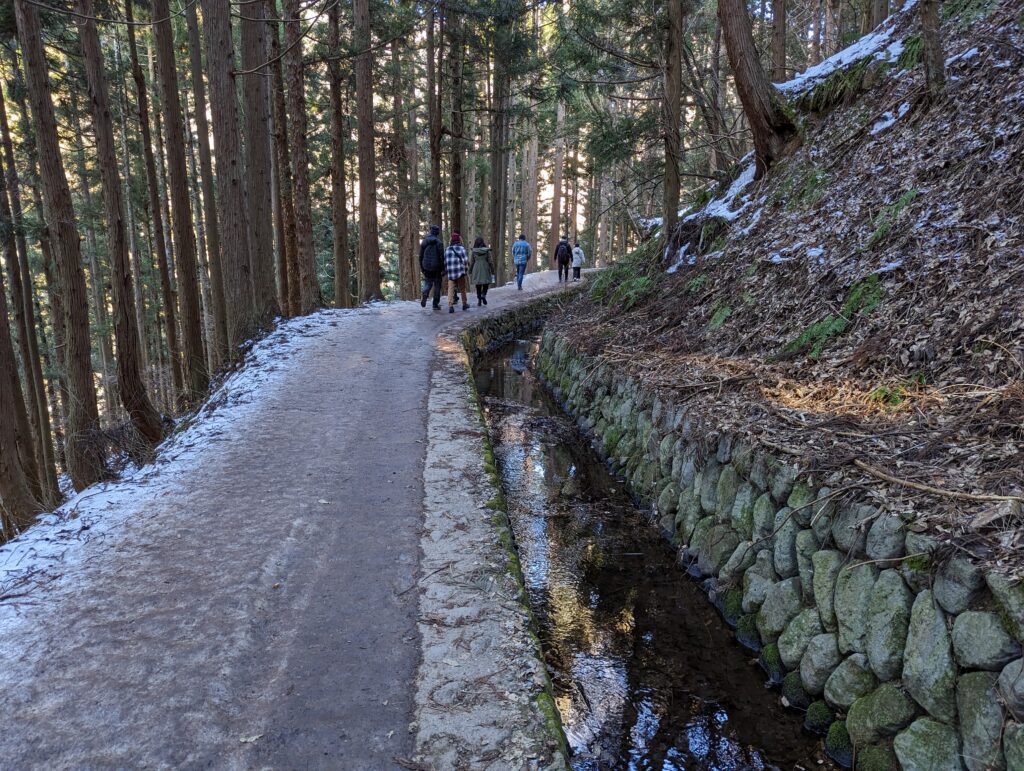 It is another long and tiring uphill walk to reach the famous onsen for snow monkeys.
They are very cute and it's interesting to watch their antics, not just as they bathe, but as they play, fight and browse the slopes and lands around the pool.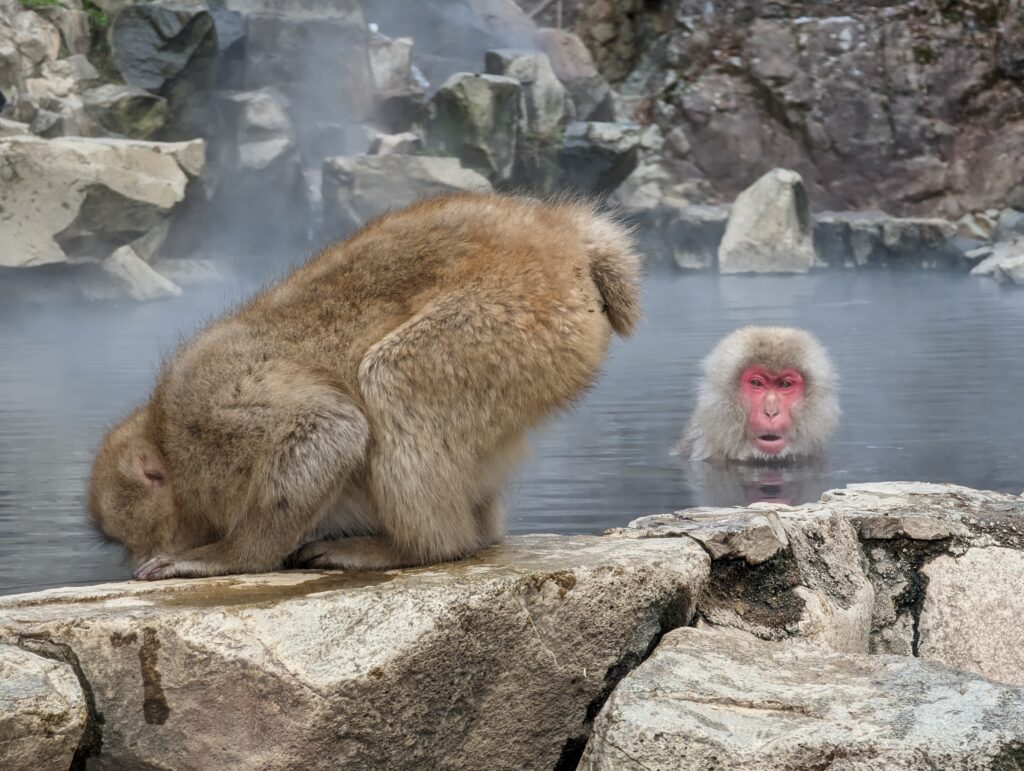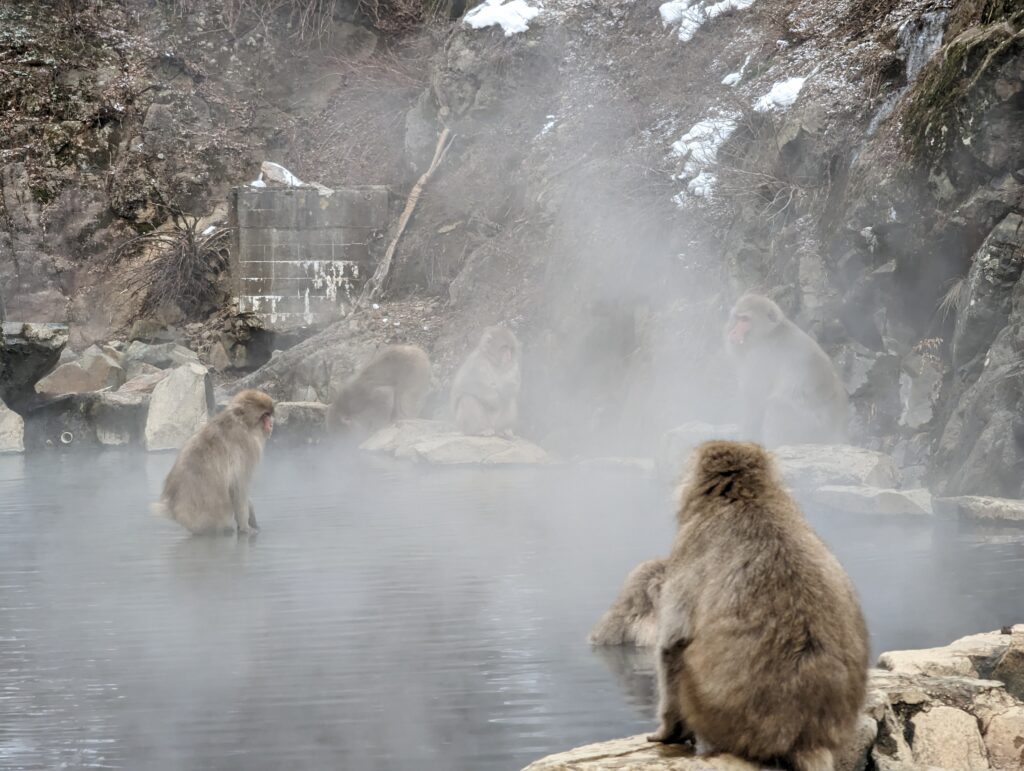 The downhill walk is a lot easier. After exiting the park we stop for a delicious but brain freezing apple soft-serve, then we continue on to the bus stop.
While we are waiting, there is the awful sound of Australianus boganus.
"Brodie! Ky! Git over 'ere."
Fortunately, they are off to the ski resort and not Shibu Onsen.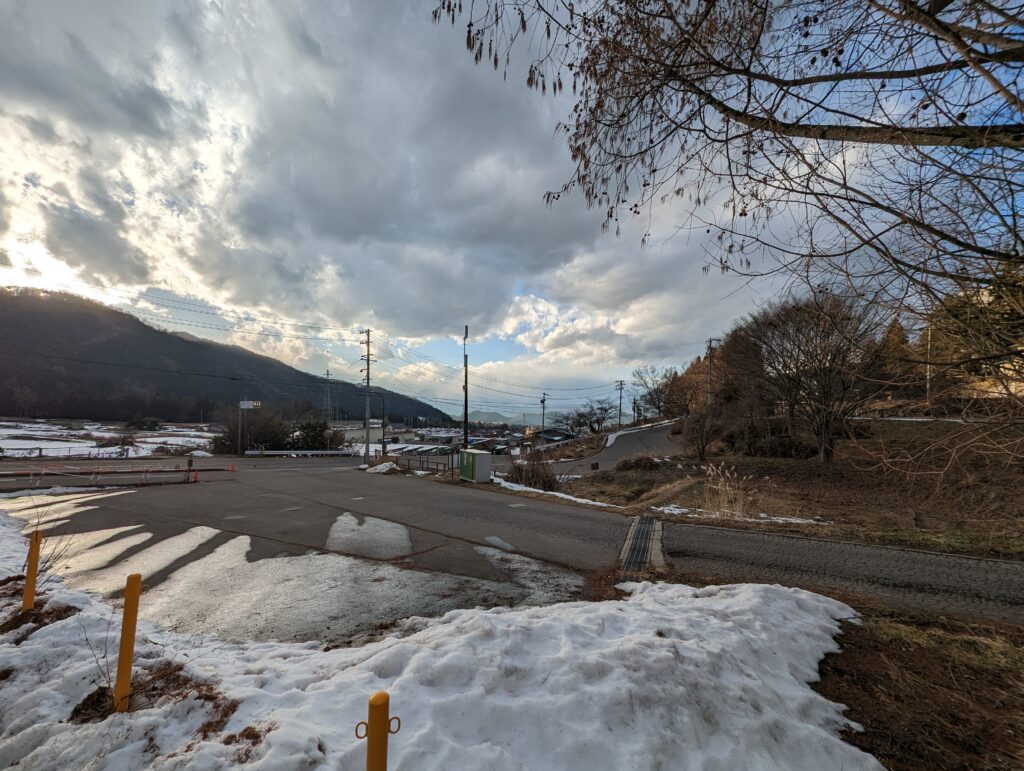 Shibu Onsen is one of those picturesque onsen villages were guest spend their time moving between a collection of ten public hot spring baths, each with their own supposed health benefits.
There are narrow streets and a couple of ball bearing game shooting parlours, one or two sale shops, but the rest are onsens.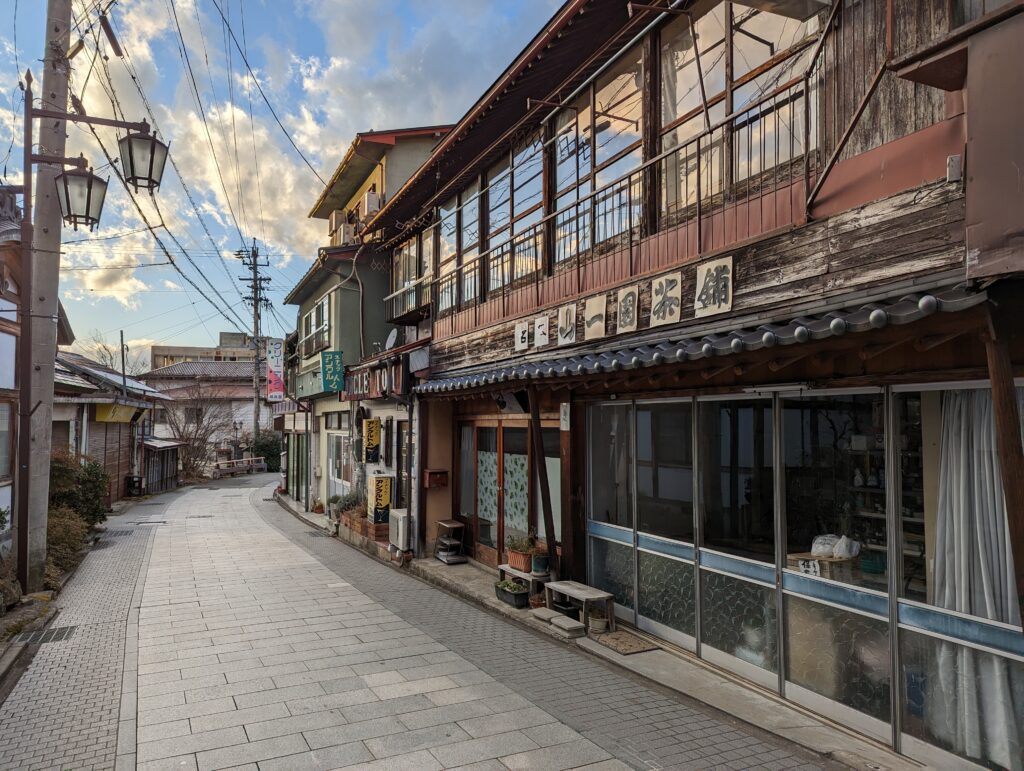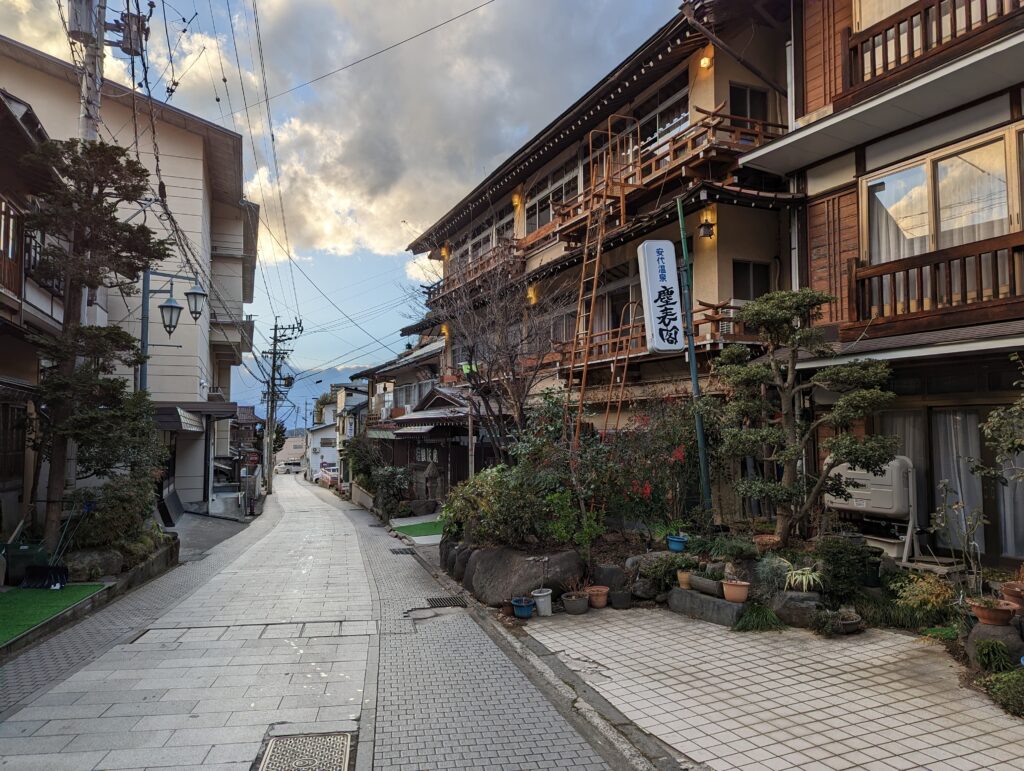 We dress in the supplied yukata and wear wooden gets clogs on our feet. There is enough time for a couple of nearby baths before dinner.
It is so good to relax in a hot bath after so many long walks. There are no washing facilities at each bath: You just splash water from the bath itself over you.
A Japanese dinner in a ryokan is a elaborate affair. The problem is that there are always dishes you don't want to eat.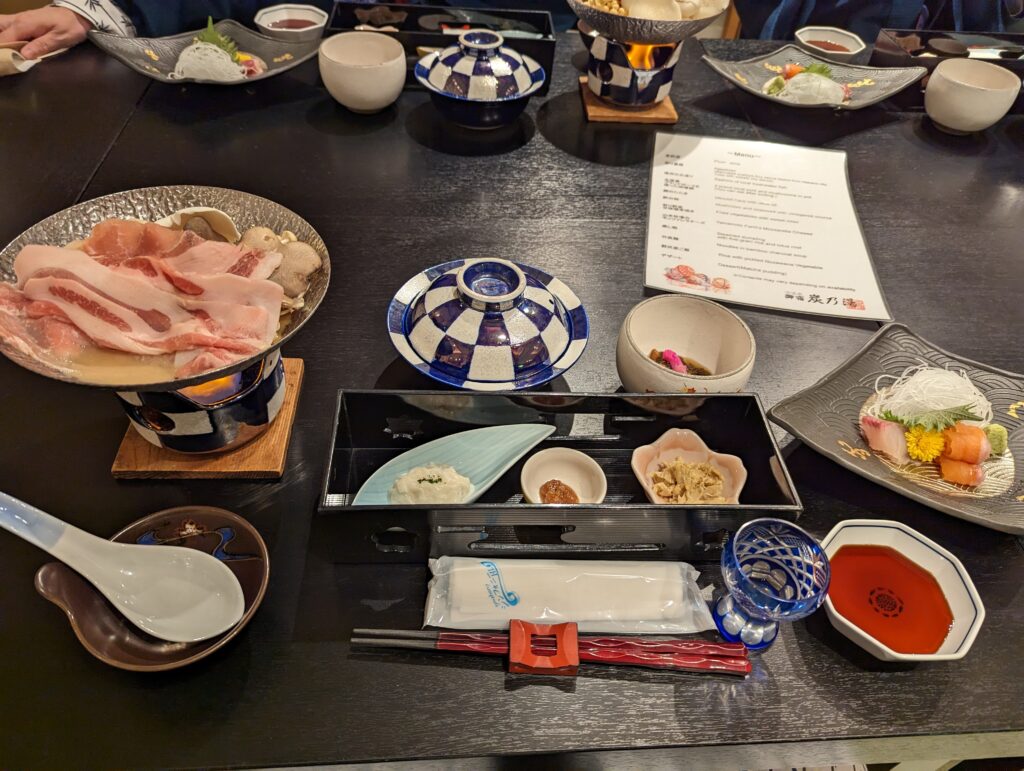 I gave Alex my sashimi and mushrooms. Took his cheese. What I did like was very nice. Other dishes we all struggled with.
After a short period digesting we set out again to visit more onsens.. We make it to three before giving up. They are all so hot and none of us has the patience to wait for the cold water to cool them enough to get in.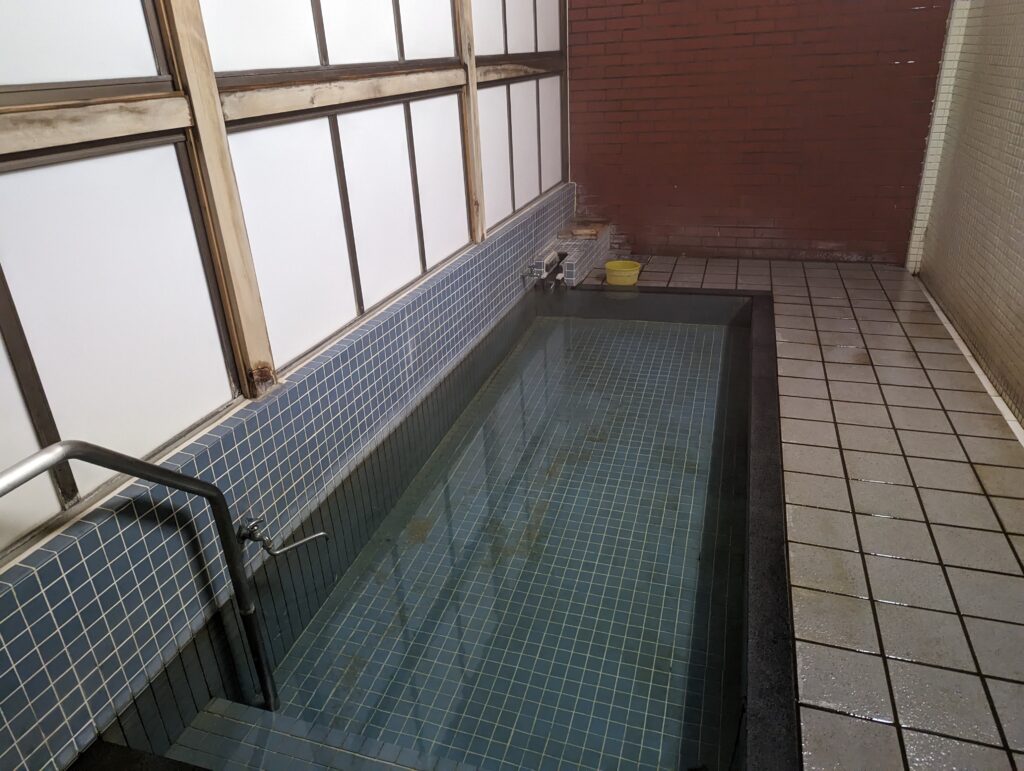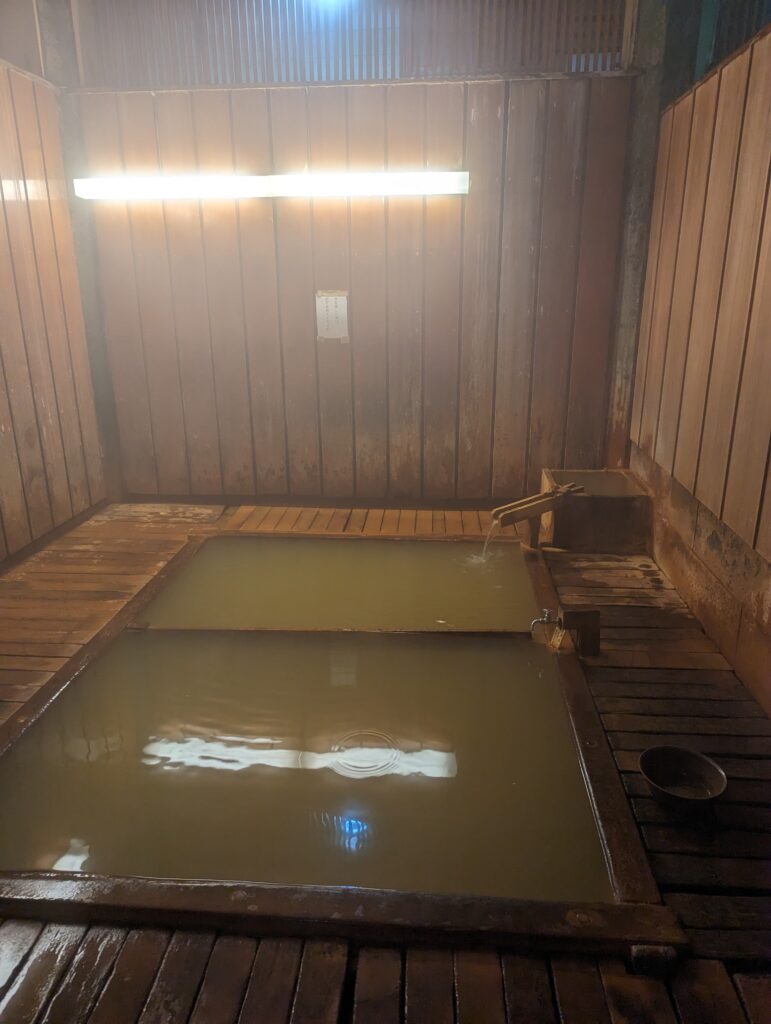 Outside, it has started to snow, tiny white flakes dancing in the breeze. It's also very cold.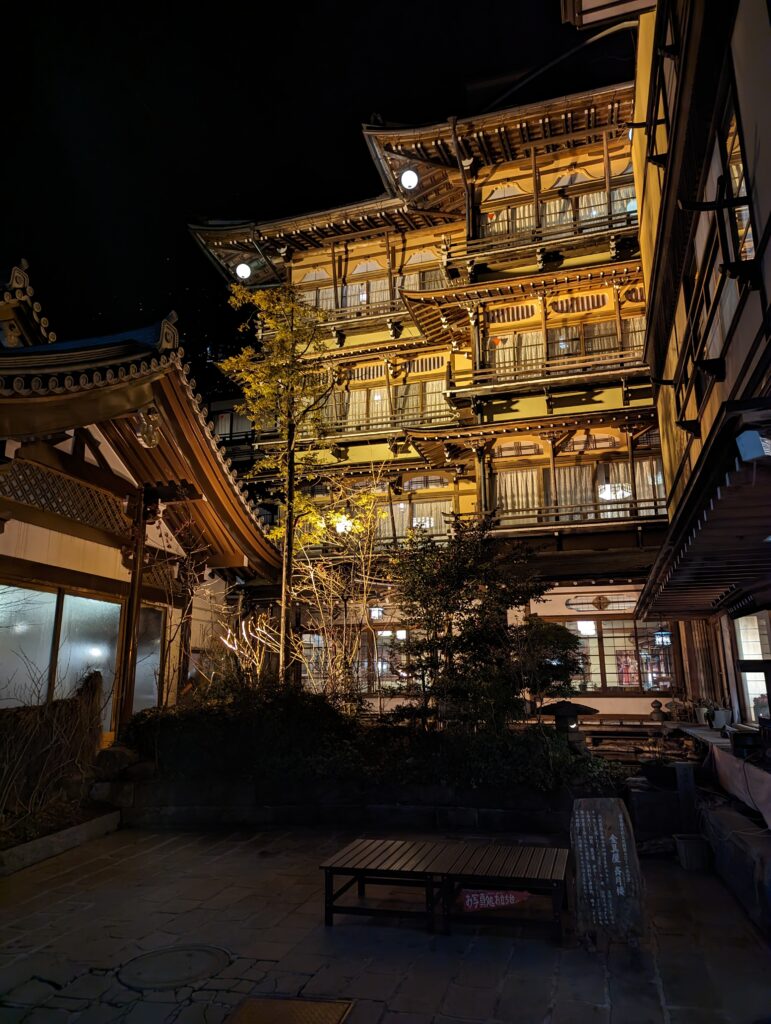 AWe give up and retreat to our hotel. One last go, we'll use the ryokan's bath.
Not only does it have proper washing facilities, but there is an outdoor pool as well. We are the only ones using the baths and it is just the most wonderful thing to relax in a hot outdoor pool while snowflakes land on your skin, tiny pinpricks of ice contrasting with the warmth of the bath.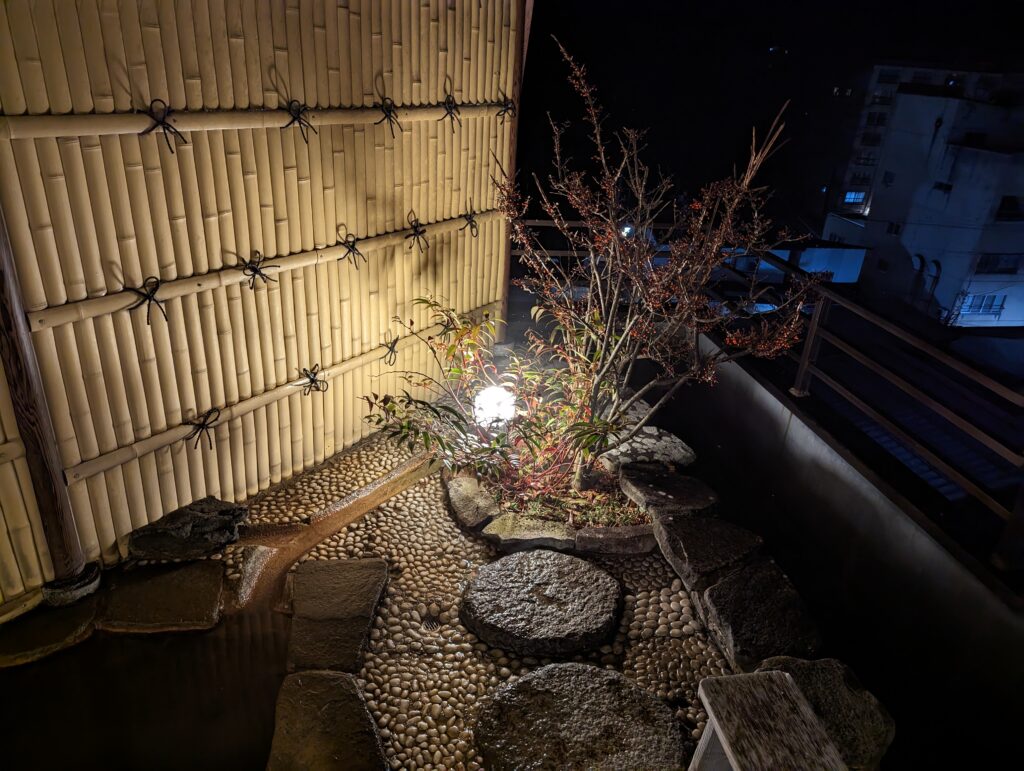 When we return to our room, the futons have been laid out on the tatami floor.
Perfect!