Forget fancy beds, our sleep on a futon on the floor of our ryokan room is the best we've had since leaving our home.
Waking up for breakfast is a struggle. The kaiseki breakfast is both sumptuous and scary. Like last night's dinner, there are elements that we just don't want to eat. Natto, tofu and, in my case, mushrooms.
The salmon is nice, though.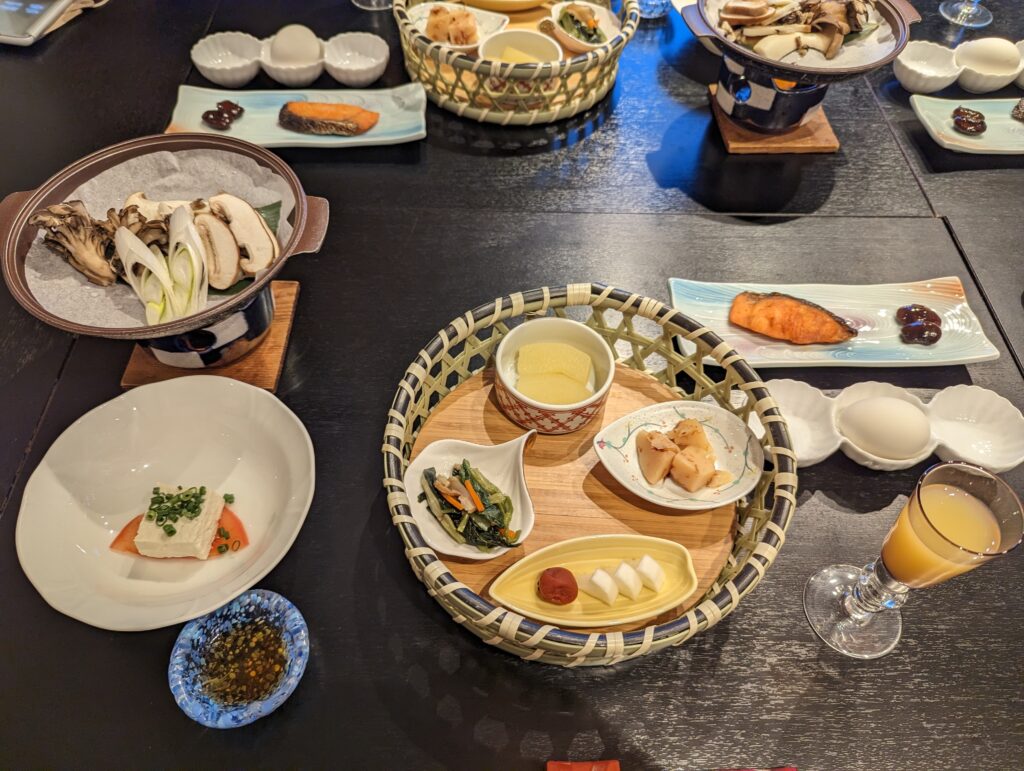 Overnight saw steady snowfall and Shibu Onsen has been transformed. We put on our snow boots and wander around the adjacent shrine, climbing the stairs beneath the torii.
The snow is the finest of powders, so soft, and it creates a magical scene in the morning light.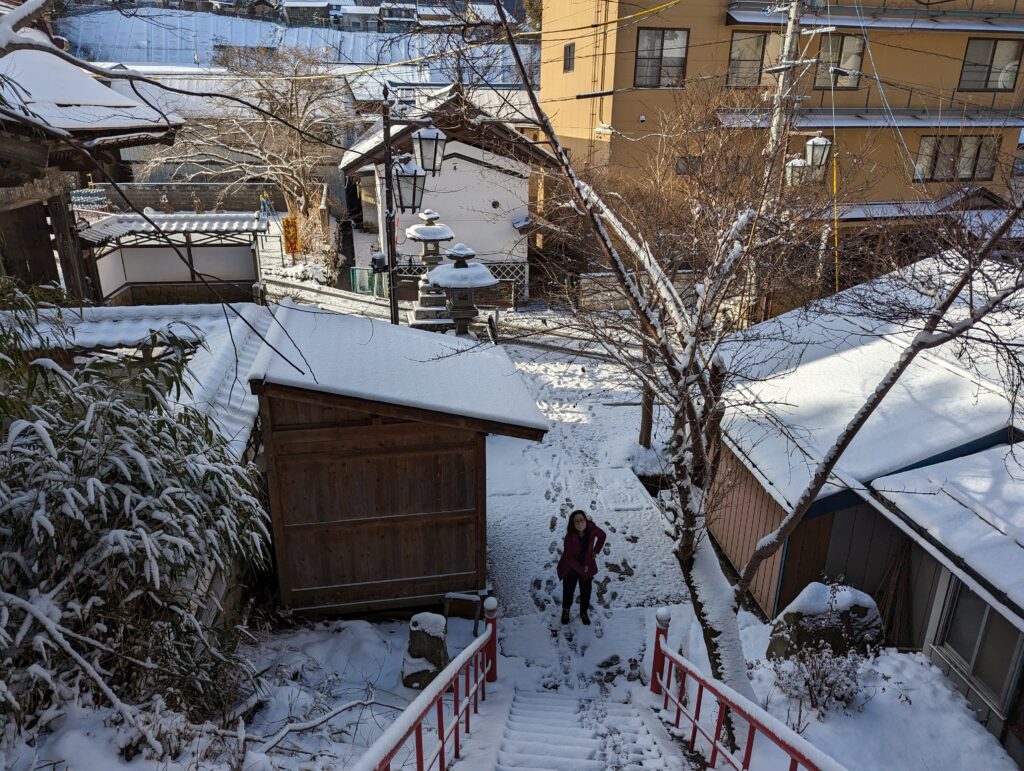 Sadly it is time to leave, a shuttle bus taking us down to Yudanaka for the ride back to Nagano with a crowd of other local and foreign guests.
Yesterday's old Narita Express has been replaced with an ex-Odakyu Romance Car set that used to do the Shinjuku to Hakone runs. It's still comfortable.
Though nowhere near as heavy and deep as on my Tadami Line, the snowfall gives a chance for B and Alex to enjoy some white winter scenery.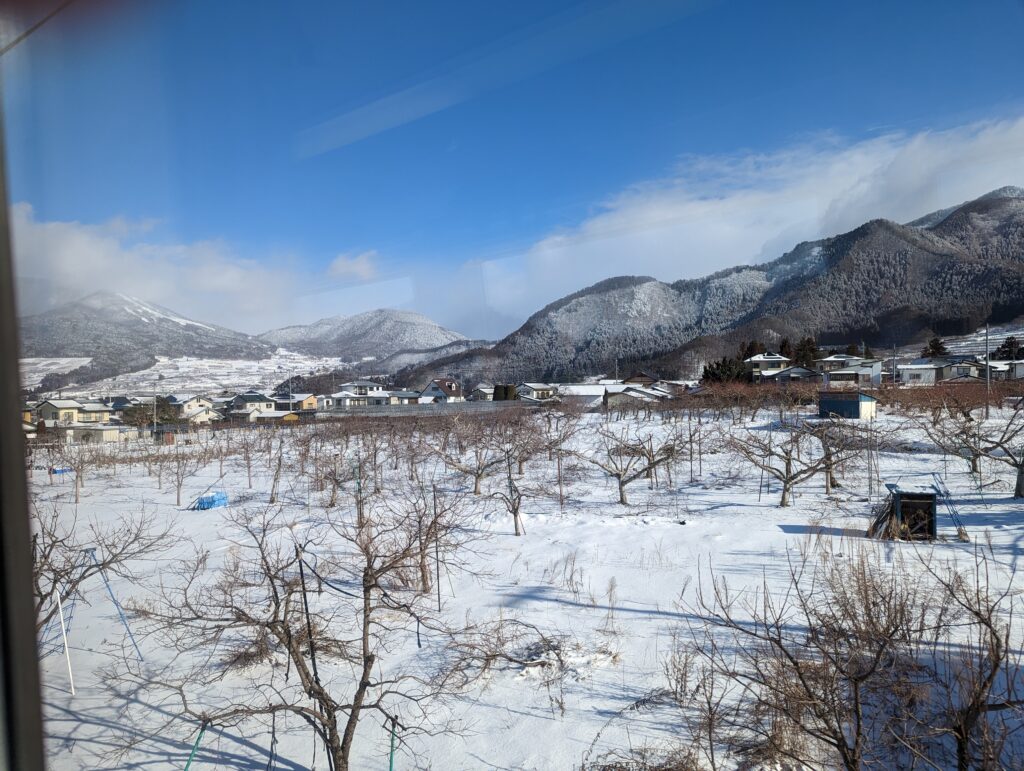 At Nagano we transfer to a Shimano Express, a three hour ride to Nagoya. I'm excited as I've only done a short ride on the Nagoya to Nakatsugawa section fifteen years ago.
We start out in urban Nagano, but then the line steeply rises into the surrounding mountains with amazing views down into the valley.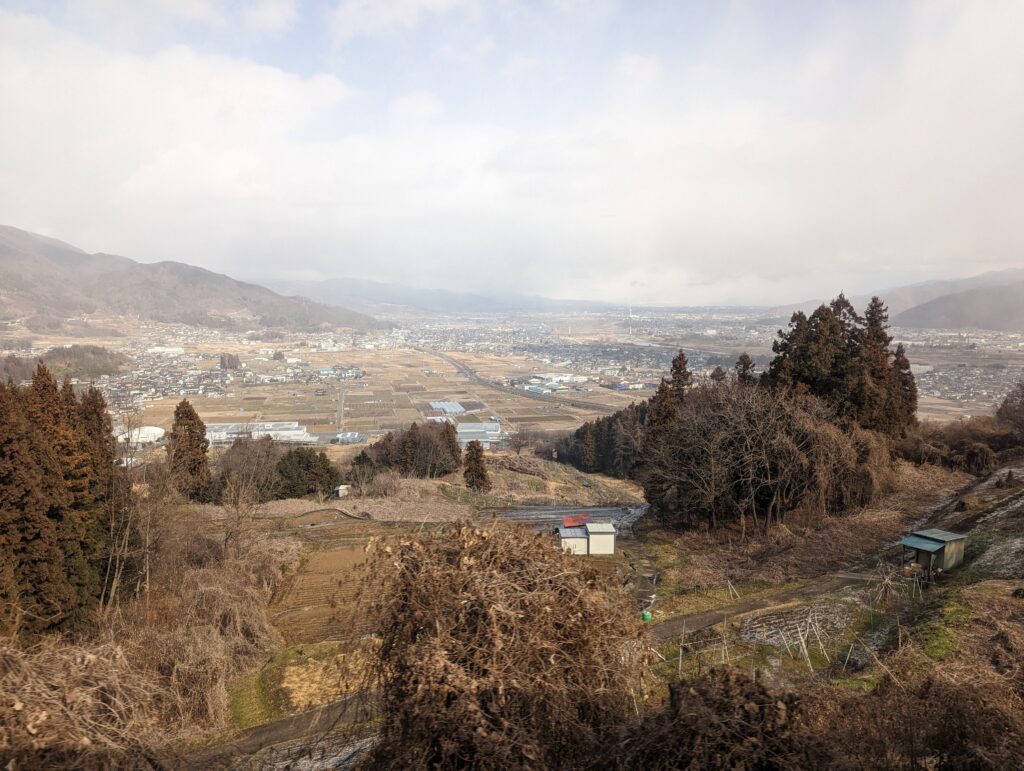 There's light snow in the valleys and atop the impressive backdrop of mountains, but the landscape is mostly a dry brown.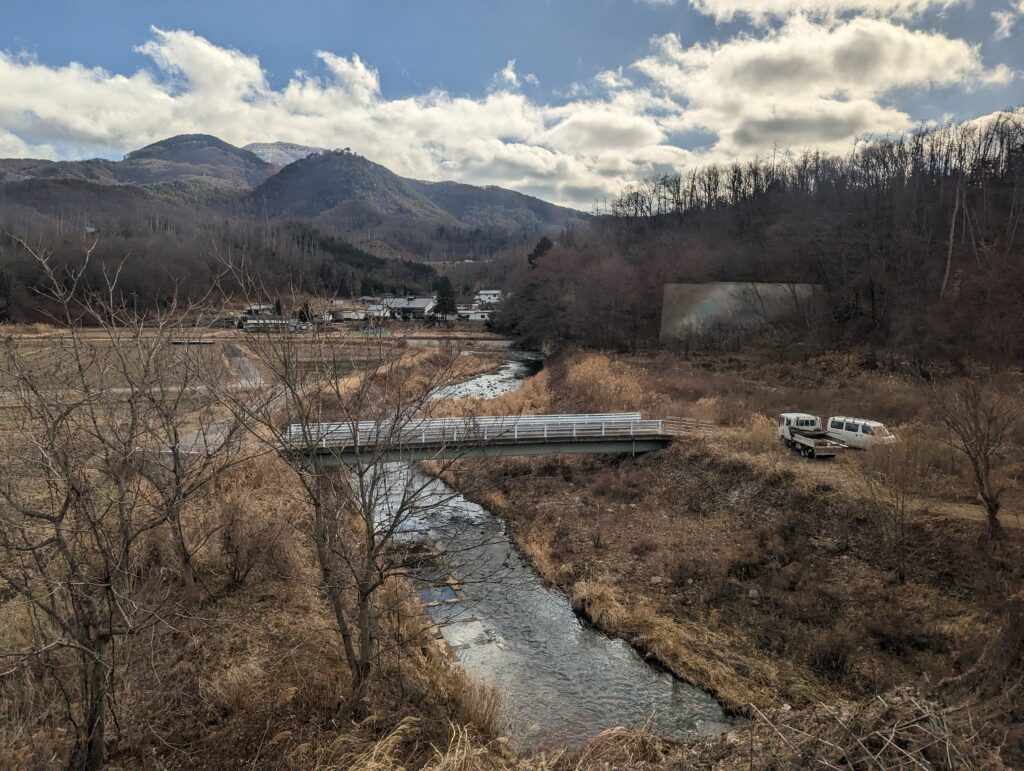 The first major stop is Matsumoto, or "Matsumotoooooo" as it is announced on the platform, the city of the black castle. We've been here before as a day trip from Tokyo, but our ride is continuing today aboard this same train.
The route joins the Kiso Valley, winding alongside the river, alternately narrow and wide, dammed and swift. The pale grey boulders are rounded like pebbles, only much larger.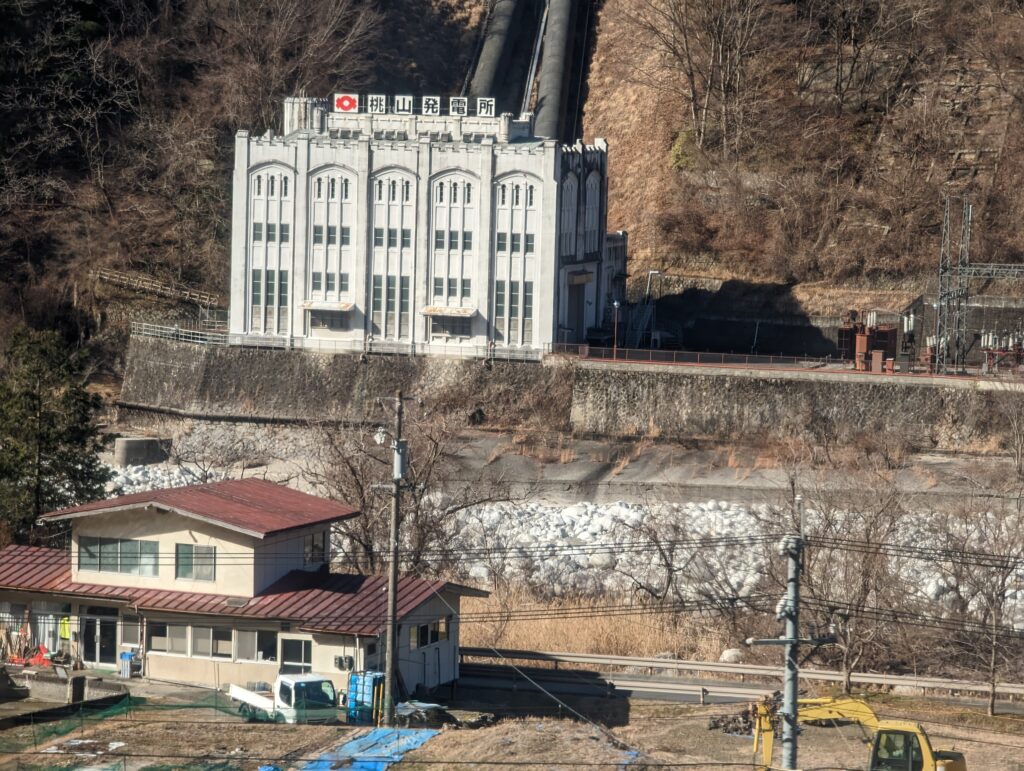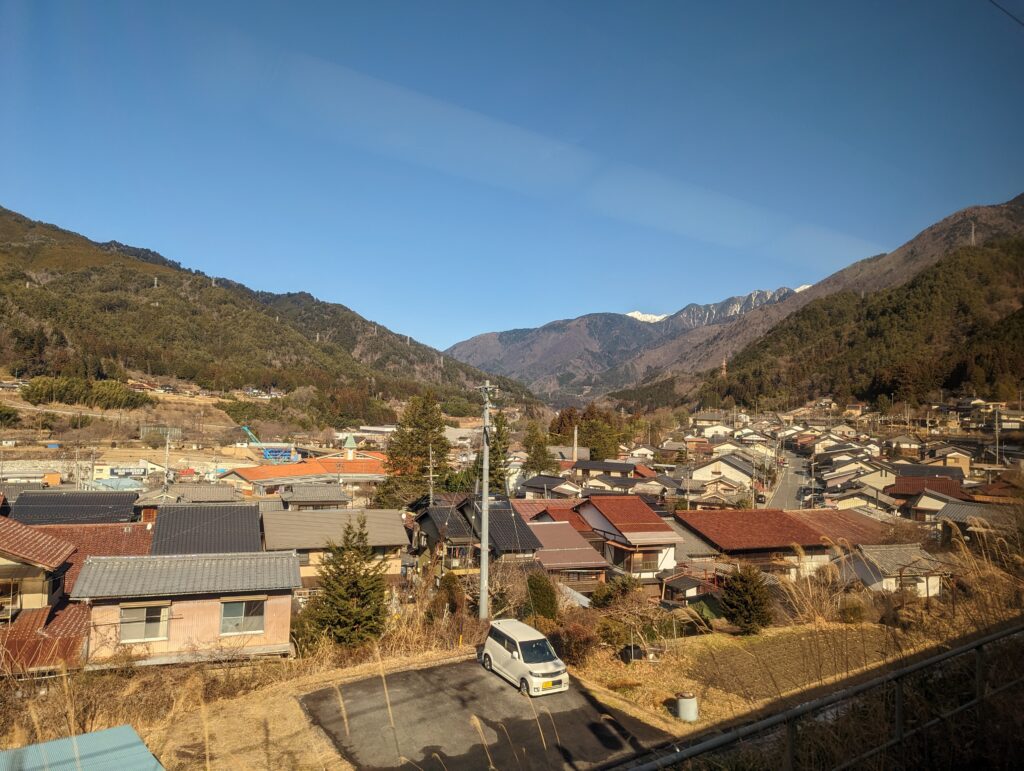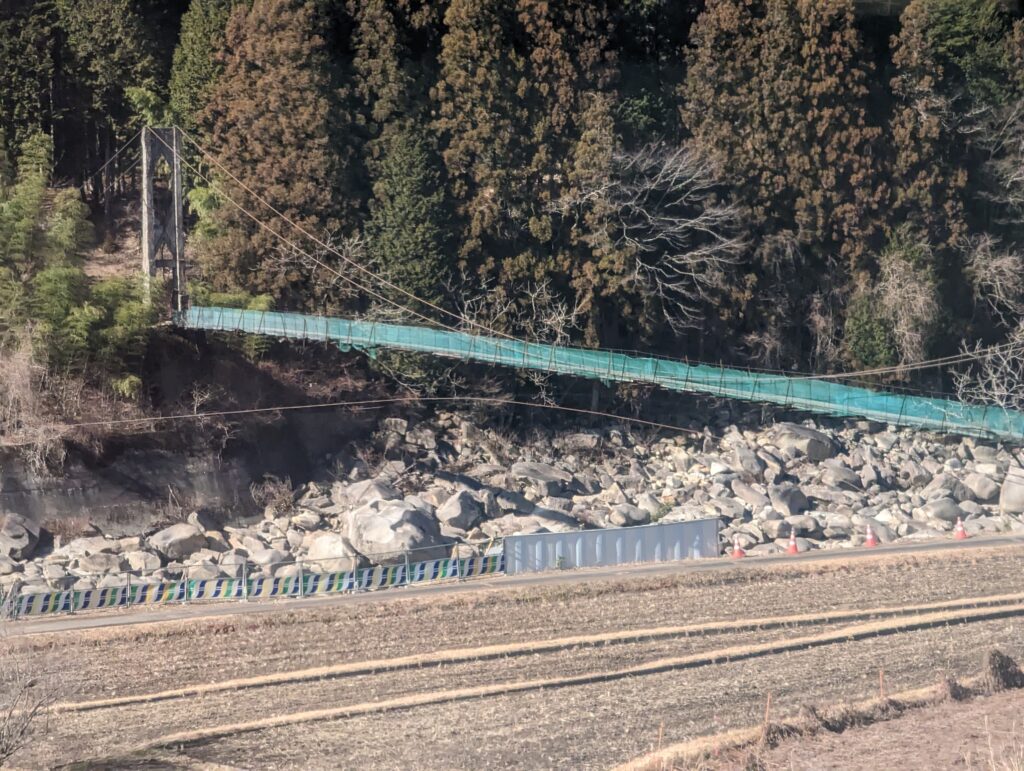 B feels motion sick from the tilting as we go around the tight curves of the valley. I'm too busy enjoying the wonderful views.
The views only end when we pull into Nagoya's urban environment and the very busy main station. From there we transfer to the Higashiyama Line for a ride of one station. That's almost two kilometres saved of dragging the luggage around but a very dingy passage to navigate.
We are entirely exhausted and end up collapsing in the hotel room for over an hour. We emerge to find some late lunch/early dinner at Saizeriya, a pseudo-Italian inexpensive dinner chain.
Opposite is Loft and Village Vanguard, full of crazy and cute items that will make good souvenirs and gifts.
The streets of the Sakae district are colourfully lit as we walk back, stopping to purchase puddings and to try a Fami-chicki from a Family Mart convenience store. Kind of like a piece of boneless KFC.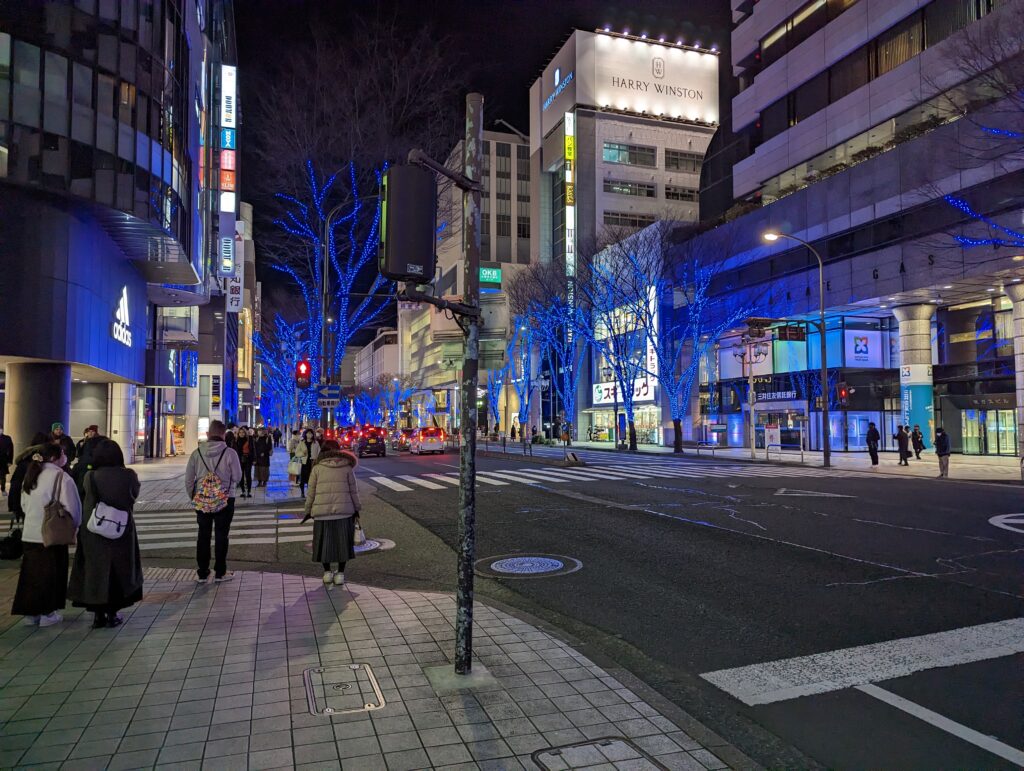 The Dormy Inn Premium has a free ramen service late at night (no meat), a laundry and hot indoor and outdoor baths. After your bath there's a freezer of free ice creams on a stick.
We take advantage of all of them, but it's another late night.