I don't want to wake up. Or if I do wake up I want to find myself waking up in my bed at home having been magically transported there in my sleep. I hate final days when faced with an overnight flight ahead of me.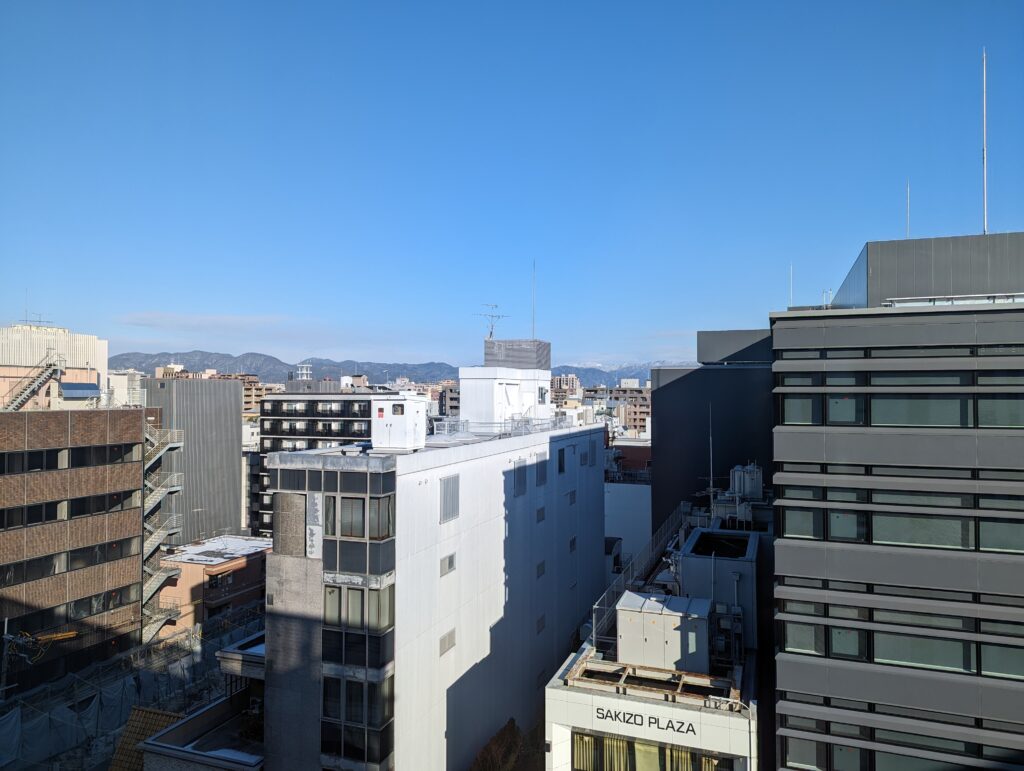 I barely leave the hotel room. We have paid extra for a 2pm check-out. The other two go out for a breakfast set, I stay in the room.
Later, I accompany them for a walk through bustling Nishiki Market, the covered arcade street selling pickles and other ingredients. But then I eat 7 Eleven sandwiches for lunch because I don't think my stomach can handle anything more. B and Alex head to a sushi restaurant for theirs.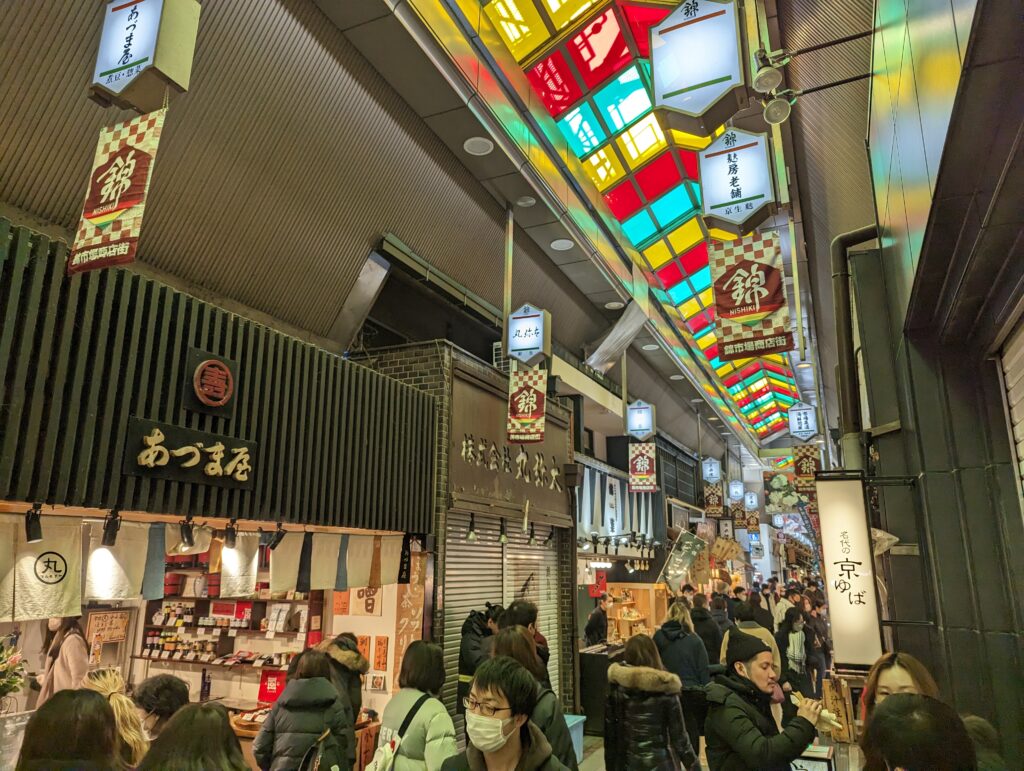 Finally, we can delay no longer and must check out. We drag our bags to the subway to Kyoto Station, an architectural wonder. B discovers one of her favourite clothing boutiques in the basement.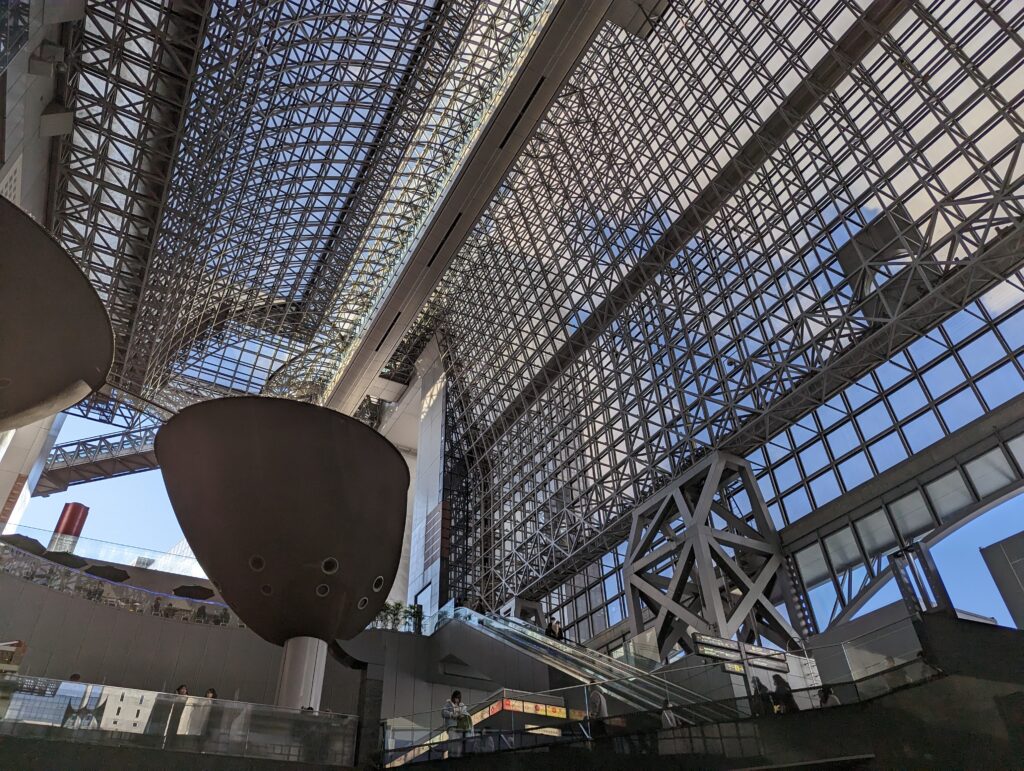 Mister Donut has heated seats and sells Pie Face pies, an Australian chain.
The sun is out while we wait on the platform and we rejoice in its warmth. Alex is excited to discover that we will be riding on a Hello Kitty decorated Haruka Express direct to Kansai International Airport.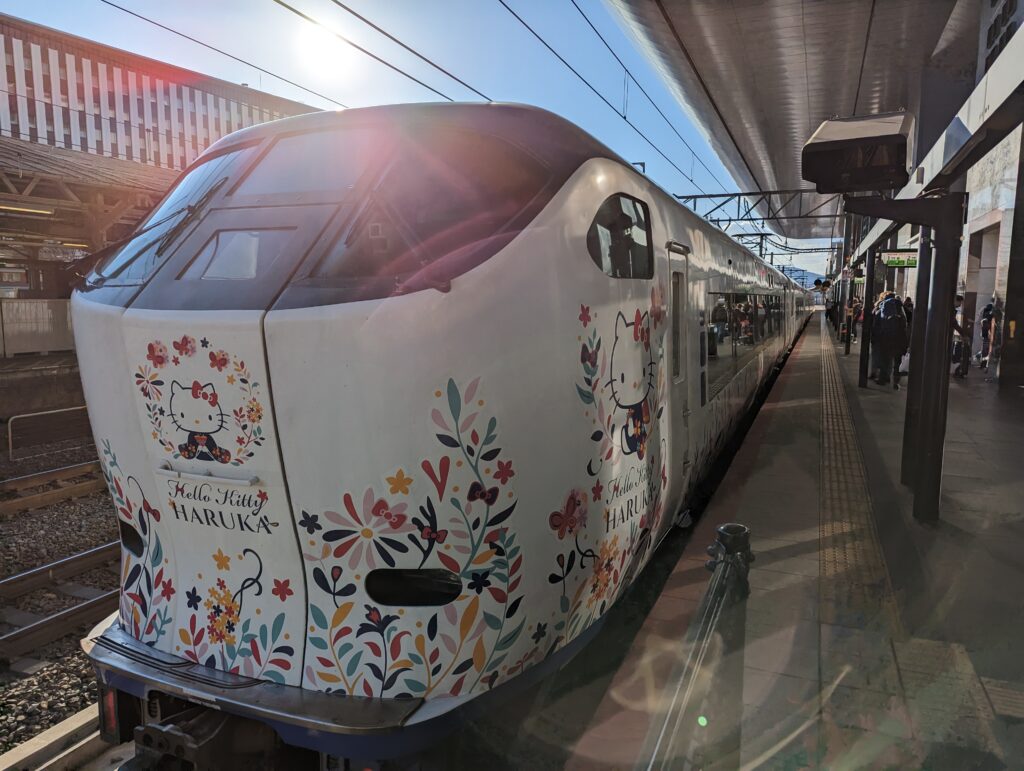 It's a relaxing one and a half hour ride to Osaka and the airport, a last look at the small streets and daily vignettes of the Japanese everyday life outside the window. The setting sun paints the scenes even more beautifully.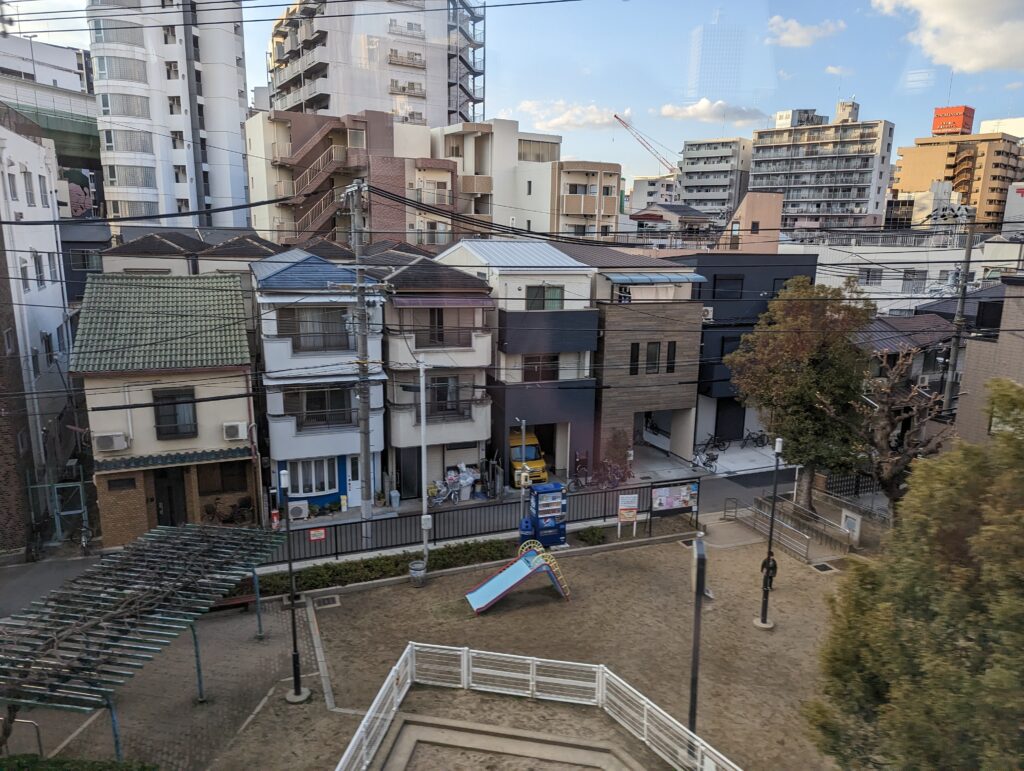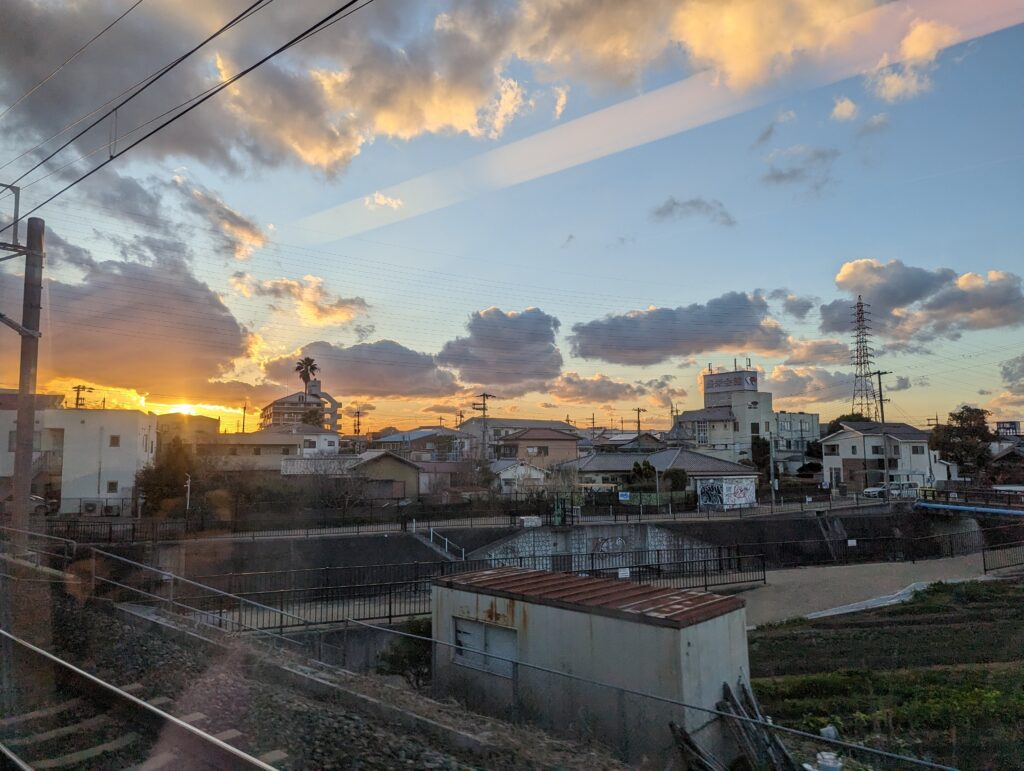 We try to find the tax refund counter to process our purchases, but the information desk has gone staff free. The whole airport is lacking in staff and shops post covid and during renovations. A screaming man is led away by police.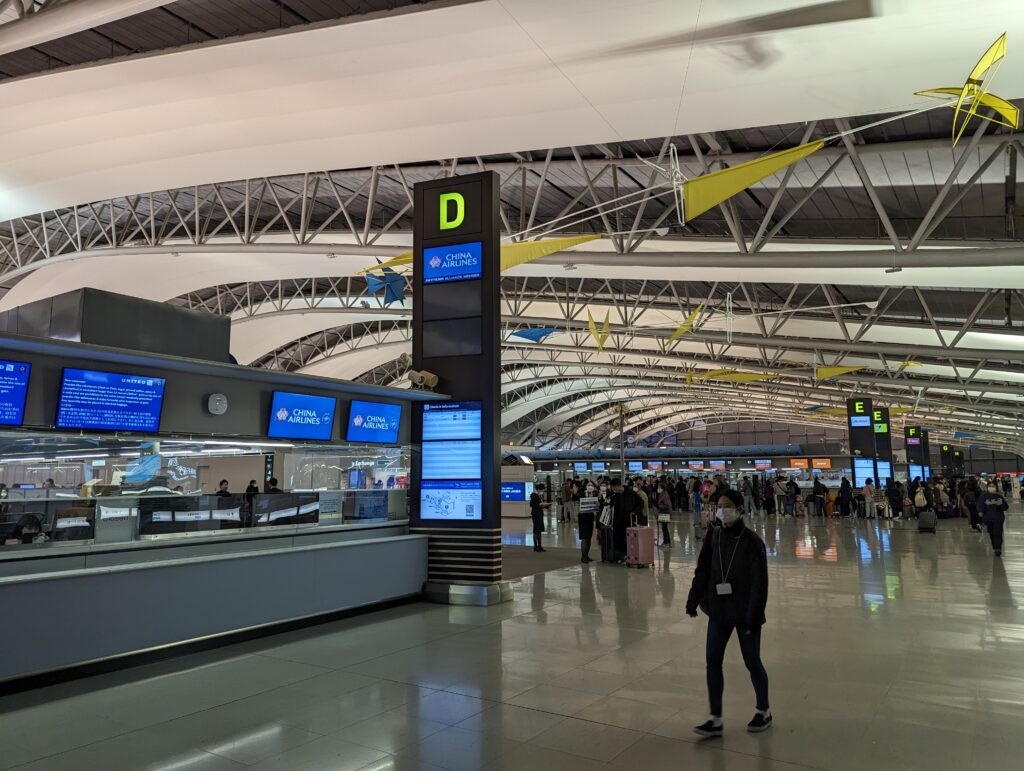 There are long queues to the three Jetstar check in desks in operation for our flight. We think that we joined it late, but then see the line stretched out behind us.
We take the southern customs and security path and it is empty. The tax refund turns out to simply involve scanning your passport. No need to show the goods like we were told to. Getting out of Japan is much less bureaucratic than getting in.
Aside from a couple of luxury goods stores, there is only a cafe and a Family Mart convenience store open. B and Alex order pasta. I buy more soft sandwiches from Family Mart, forcing myself to eat them.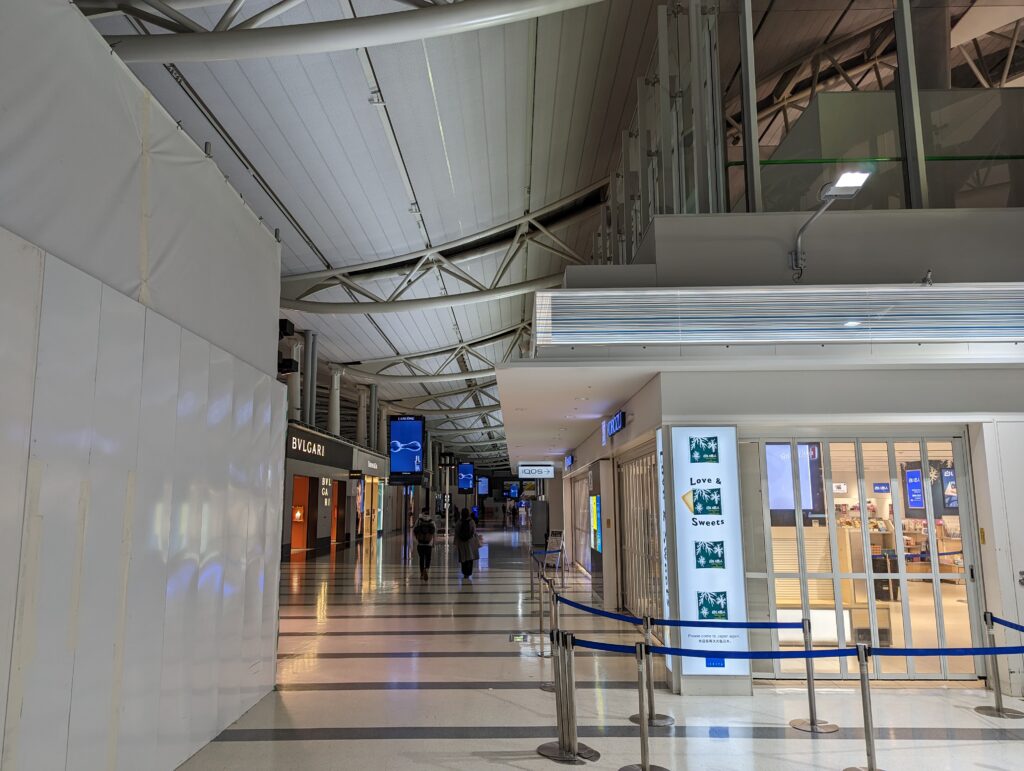 While we wait to board I get a message that our separately booked flights directly to Sydney from Cairns have been "cancelled due to engineering issues." There's nothing I can do about it now.
We still have our original booking, via Brisbane to Sydney. But then we arrive late and Sydney's weather looks terrible. I'm not sure I can cope with two more flights after this one. I think of spending a night in Cairns…
Our Jetstar 787-8's wing looks like it is held together with duct tape. There are carbon fibre patches everywhere. It's not a great look, though it's probably fine.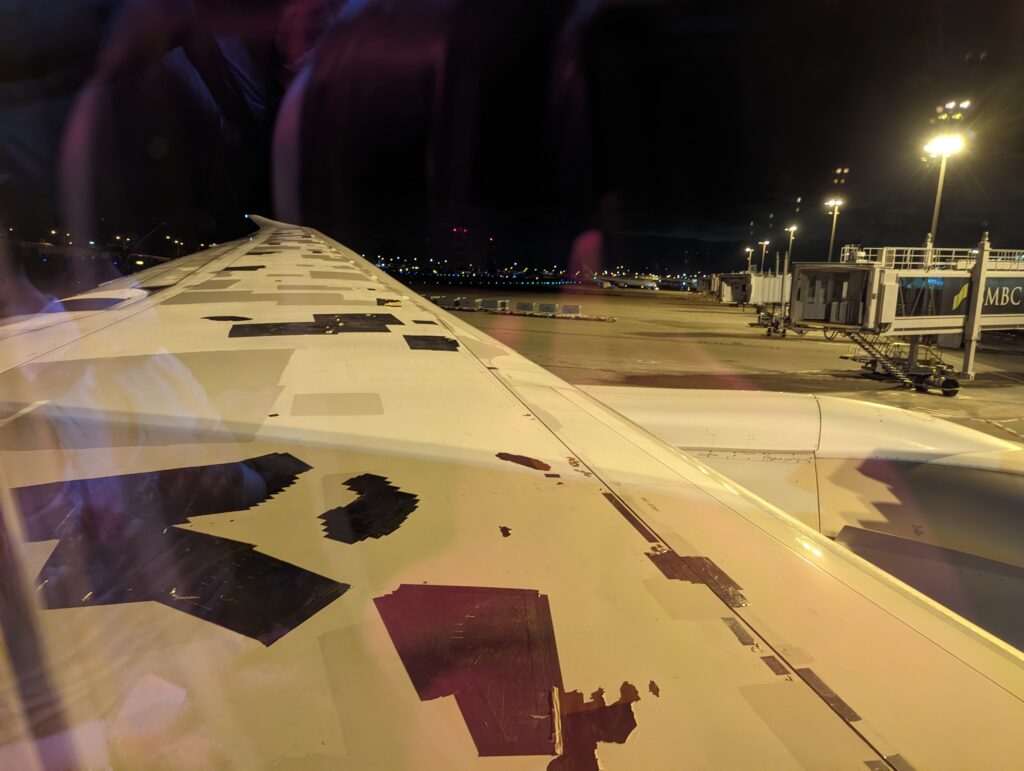 It's a very full flight. The flight deck actually talks to us, but makes no mention of weather conditions except to say that Cairns is tropically wet. I'm concerned about descending through the storm clouds.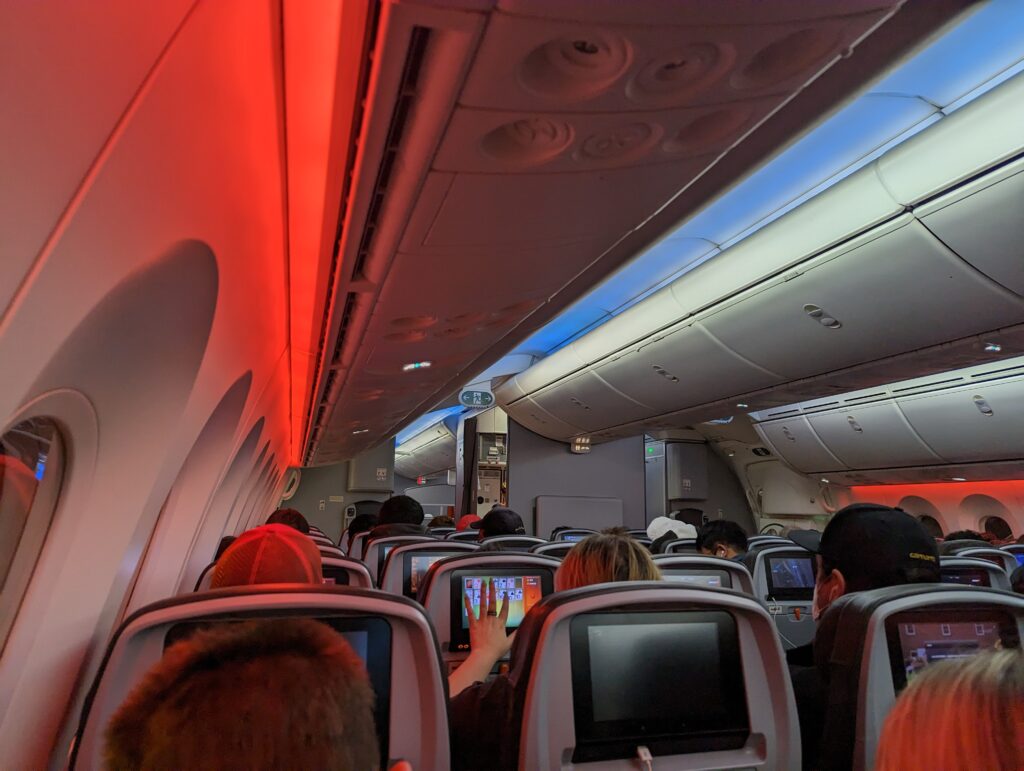 It's a fairly smooth take-off and ascent. There are some rougher patches to the south of Japan, then some very smooth areas. The problem is that, if I shut my eyes, I can feel every small change in motion. I can't see out. I discover that the windows have been locked to maximum opacity, pointless at night.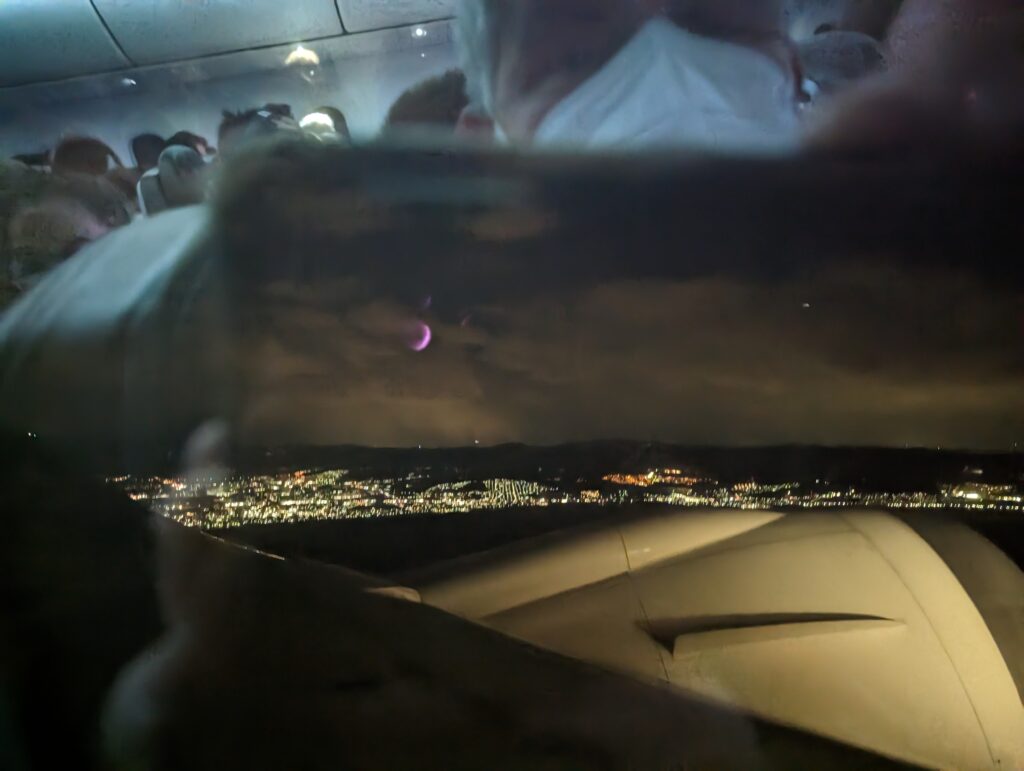 Alex throws up. He's hot, tired and anxious about not being able to sleep, the smell of the meal service triggering his stomach.
I watch movies to distract myself. I've always thought Inception would make a good plane movie, and it does, though I've watched it before.
I know we are around Guam by the high cloud bumps, similarly around Papua New Guinea. Alex is still waking, vomiting, sleeping. I'm really tired too. Maybe I can't do these night flights so well anymore.
I'm watching The Empire Strikes Back now, because I know I can shut my eyes and still see everything. It's just to distract and pass time.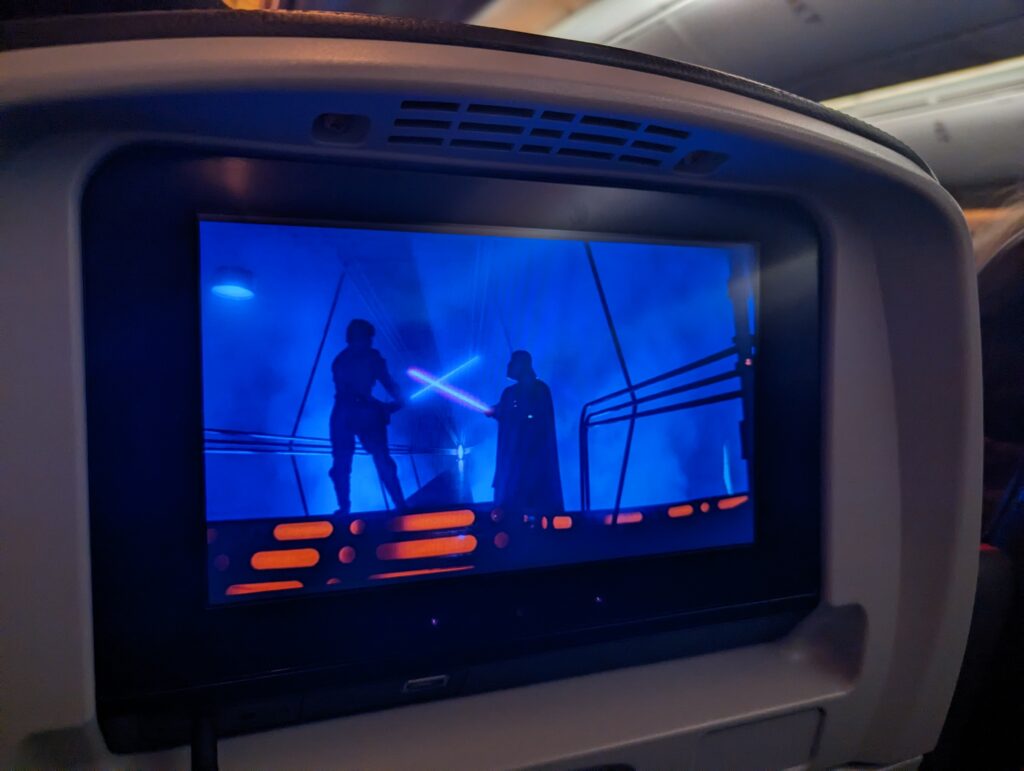 My nervousness rises as the pilots announce the descent, though it only takes the last twenty minutes of the flight. Surprisingly it's pretty smooth, the rain clouds mere wisps over the sea.
We've done it, but Alex feels sick and I don't feel great either. Unfortunately, it takes an age to get out from the International Terminal, with queues at immigration, an interminable wait for luggage. The dogs sniffing our bags was actually a highlight, Alex helping by holding a training pouch.
We wheel the luggage across the outdoor path to the Domestic Terminal. The sun is rising and the scenery is beautiful. Mountain waves over the hills, low cloud, jets taking off into the sky.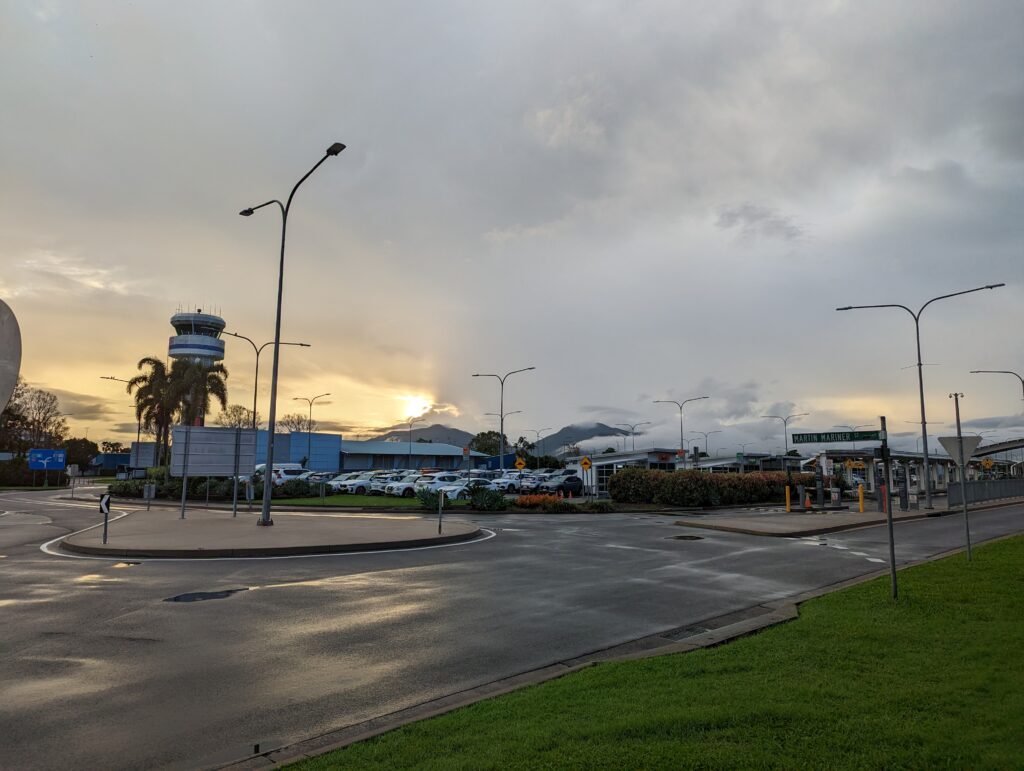 After some , deliberation we approach the Jetstar Service Desk. The young man there is really helpful and well prepared for dealing with the cancellation. Our hidden option is to continue via the Brisbane route and get our money back for the cancelled flight. Or to get free accommodation in Cairns for an extra day and take the first flight out the next morning.
Well, that's kind of what I was thinking of doing anyway, and Alex is still feeling sick, so that's what we go for. Jetstar are paying, so why not?
We catch a taxi to the Holiday Inn Harbourside. The view from the balcony is fantastic, the interior is dated and worn and there's a big dead cockroach in the bathroom. Still, it's good enough to fall asleep in and that, after a shower each, is what we do.